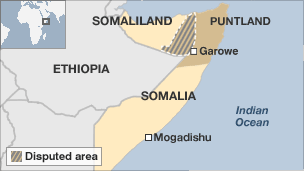 What is the difference
between Somalia and Somaliland?
Somalia is a country at the Horn of Africa with a population of 10 Million people. The country which is known for its piracy is split in three big regions: Somaliland, Puntland, Somalia. 
Somaliland recognizes itself as an independent country, declared itself a republic nearly 20 years ago but has never been recognized as such by the international community such as the United Nations. On the one hand, Somaliland can be seen as an independent state, on the other hand it can´t. Somaliland, which claims Hargeisa as its capital, has its own currency, its own electoral system and president, and its own flag. 
Nevertheless, not a single country recognizes Somaliland as a country, there are no Somaliland embassies around the globe and no ATM as they are not liked with the global money market. 
Is Somaliland safe?
You could easily see pure Somalia is one of the most dangerous places on earth at the moment due to its piracy and Islamic fundamentalism. The state failed many years ago and is ungovernable since then. 
Puntland is dangerous as well and there are no reports on any tourism activity. 
Somaliland is the rather safeish part of those three regions. There are pretty much no security issues for many years and a hand full backpackers visit the "country" every year. So, it is quite safe for the region. Still you need an armed guard once you leave the capital of Hargeisa, but this is precaution and in my opinion not really necessary. People are very friendly and you only hear "thank you for visiting" and "welcome to Somaliland" on the streets.