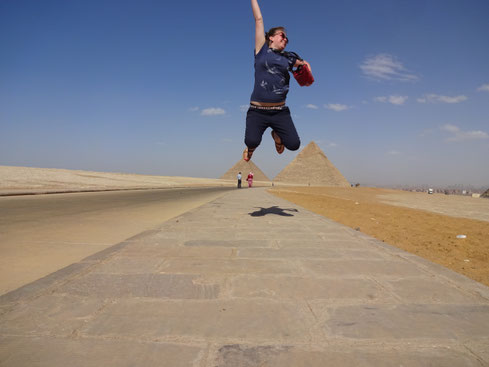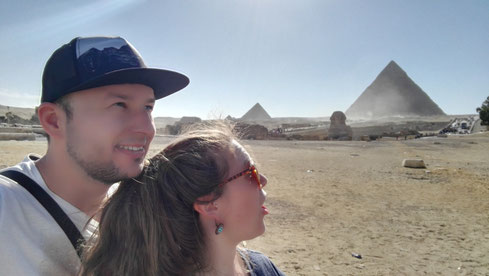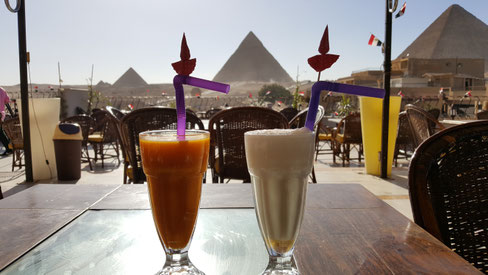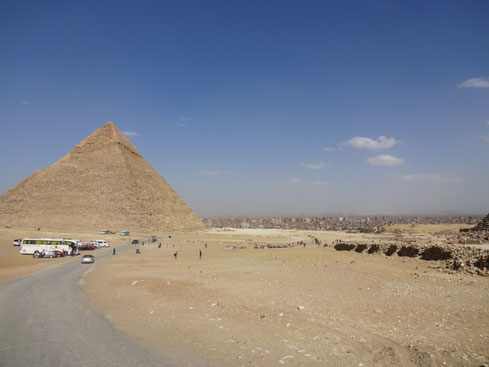 Back in Cairo, we went straight to see the Pyramids. And to let you know from the beginning: Don't expect to drive to the lonely desert for hours to eventually discover those magical pyramids. No, its completely different. After 2 hours traffic jam from Cairo, you reach the neighborhood Giza where the pyramids slowly arise behind skyscrapers, adverts and a big McDonald sign. Welcome to one of the seven wonders of the world. Covered in dust and accompanied by the noise from the nearby traffic. It does not matter what time or which day you go: There are always other tourists. Fridays is not as busy though. All tourist have to pay 80 Egyptian Pound (4 Euro) to enter the complex of the pyramid. That's same for all but then you have different options:
1) Going by foot
- You have all time in the world. (Well, the complex closes at 5pm, last tickets sold at 4pm)
- You can explore six pyramids and the Sphinx and stop wherever you like to take photos
- You can go to the inside of two pyramids (extra charge)
- Disadvantage: You will be grilled by the sun. It so hot in the desert and you need minimum three hours of walking. Plus: In front of each and every pyramid there are people selling souvenirs and they won´t let you pass by without checking out their offers.
2) Going by camel/horse/horse-carriage
- For 100 Egyptian Pound (5 Euro) you can go for half an hour (or one hour- depends on your bargain skills) on top of a horse, camel or with a horse-carriage it saves you time if you have little time in Cairo.
- They will stop only a couple of times for photos
- Disadvantage: definitely not fair how animals are being treated here.
3) Going by own car/bus/coach
In my opinion the most boring way. Takes all the remaining magic from the pyramids when buses driving around them.
Many Chinese tourists did this and took photos from behind the window glass.
If I have the chance to come back to he Pyramids one day, I would not do any of these options. Personally for me there was no need to go that close to the pyramids. So I highly recommend the rooftop Bar "Al Dwaar" from where you see 4 pyramids and the Sphinx and all these tourists crows moving. Youdont have to enter the pyramid complex, just go the second gate where the Sphinx is. They offer fresh juices, smoothies, shisha and also food. Amazing service and magnificent sunset over the tops of the pyramids!