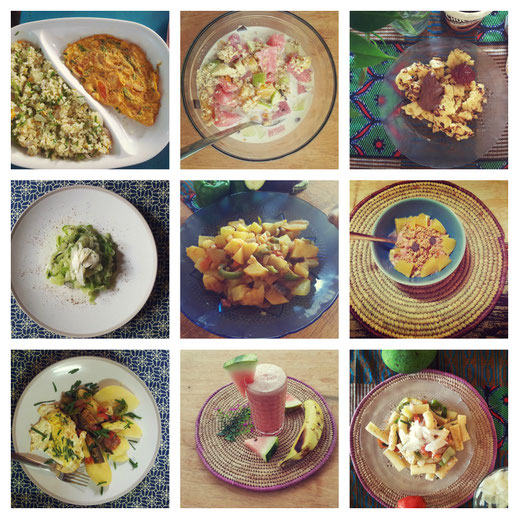 Many people asked me: What do Tobias and I eat in Burkina Faso? The answer is maybe not that special, because we kind of eat the same things like in Germany. I have to admit though that there is less variety but nevertheless it´s not monotonous at all.
We eat only local and seasonal products and that's worth it to have a few meals less. National dishes of Burkina are tô (in other African countries referred to as pate) and rice with peanut sauce.
Sorry for an honest opinion: But I can´t, I just can´t eat tô because it tastes horrible for me. Rice with sauce is fine once in a while, but I´m so happy to be able to prepare my own meals. We benefit from trips to Ouagadougou, Niamey or Benin to buy some luxury products, such as cheese, chocolate and olive oil. Or we profit from friends who brought some nice things back from a holiday in Europe ;) 
Over the last month, I took photos of my most favorite meals. See all recipes and photos.