---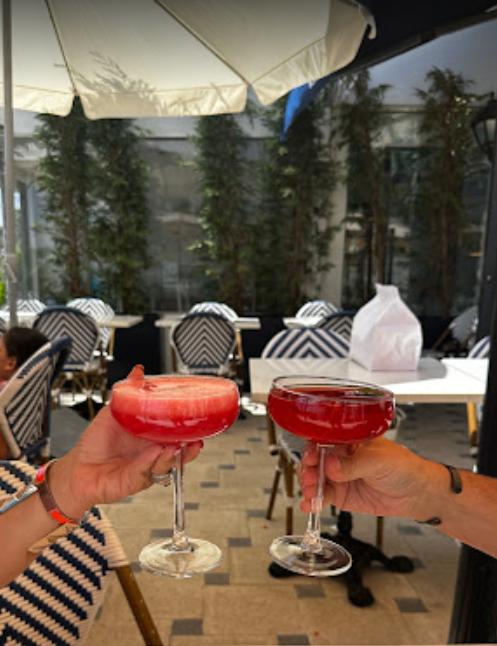 Atmosphere: This new Café is cozy, calm and in a good location. You sit under umbrellas in shade and observe the street life in Abdoun. 
Food: Breakfast, Brunch, Dinner, french touch. 
Location: WVQG+J9 Amman
---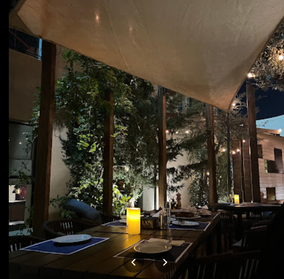 Atmosphere: You are going to sit in lush green gardens, enjoying Italian food. Big space, so also suitable for groups.
Food: Pizza, Pasta Salad.
Location: WVRP+8X Amman
---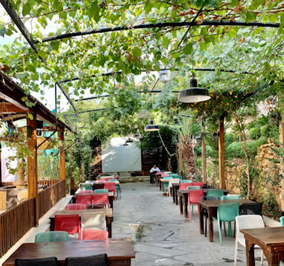 Atmosphere: outside and inside seating area
Food: Jordanian cuisine
Location: XW2J+V8 Amman
---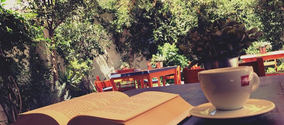 Atmosphere: Cozy, hidden bookshop with some tables in their yard. Homemade cookies and cakes and very good coffee. 
Food: Pastry, cake, coffee.
Location: WWXH+F5M، ش. حليم أبو رحمة، عمّان
---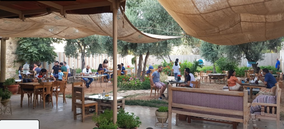 Atmosphere: This place is in Madaba, but it is so worth a drive there. Vegan and vegtarian place, with big portions, a bookshop, and a garden where the owner grows his own herbs and vegetables. 
Food: Let´s say 4 main (veggie) options but therefore high, high quality.
Location: PQ9R+MG Madabaا
---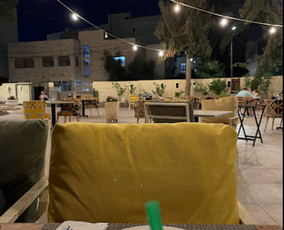 Atmosphere: Upper class restaurant with dishes from all over Jordan. All meals can be served vegetarian. 
Food: exotic things from all corners in Jordan of which I never heard.
Location: XW4G+92 Amman
---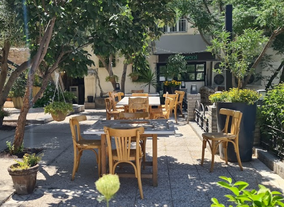 Atmosphere: Cats, Trees, Flowers...you sit in a little jungle. 
Food: Jordanian, vegetarian, new variation of daily Jordanian food. As example beetroot falafell. 
Location: XW2G+8R Amman
---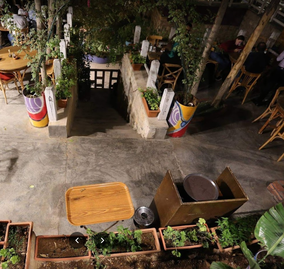 Atmosphere: green, hipster and traditional furniture
Food: Mannaisch, Salat, Pizza, Sandwiches
Location: XW4J+C8 Amman
---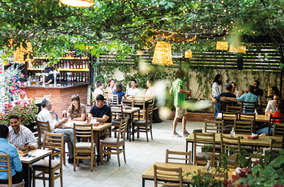 Atmosphere: A pub at night, a restaurant during the day. Wonderful seating area, shaded by grape leaves.. Big variety of food. 
Food: Pub food, salats, pasta - but the food should not be your first reason to come here :)
Location: XW5C+7J Amman
---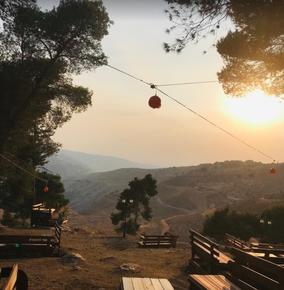 Atmosphere: This is real nature. 20 minutes out of Amman. Dead-Sea-view. All seating areas done from recycled wood. Combine it with a walk in the surrounding forest.
Food: Only drinks, ice cream, crisps and biscuits. 
Location: WR28+7C Amman