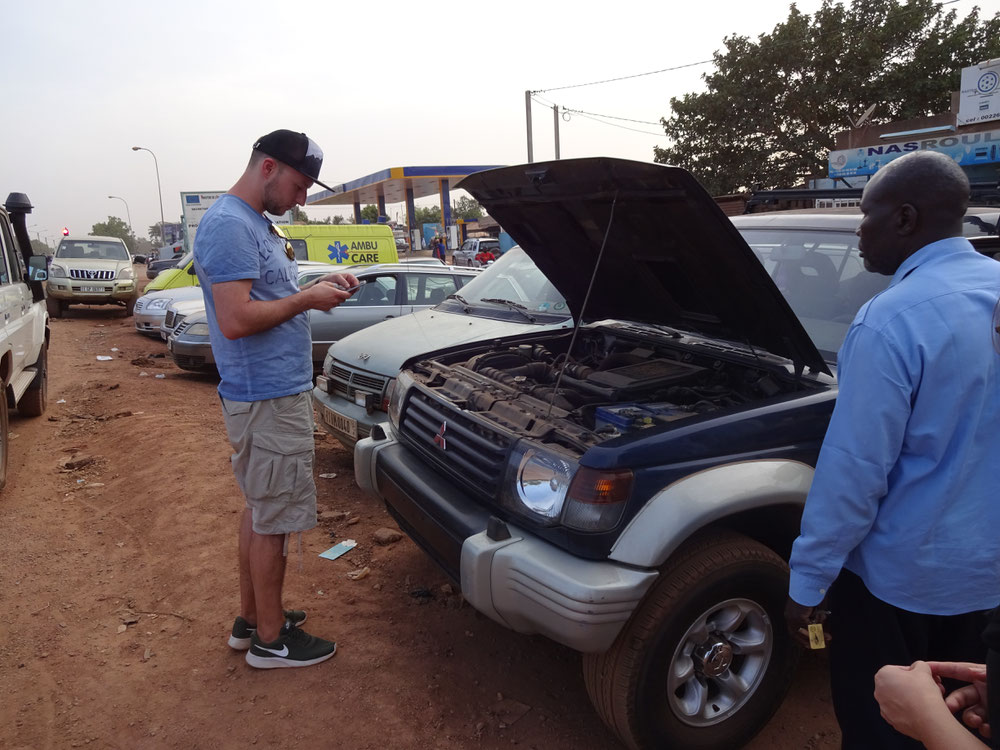 The decision to buy a second car was easy. First reason: The project car that I already have is not for private usage. Second: Tobias needs his own vehicle to follow his projects. With a friend of a friend we went to the car-selling-side of Ouagadougou. Buying a car in Burkina Faso follows for me completely new rules...
When we asked for the price of the first car, I was shocked. It was miles away from our budget, which I had told the businessman beforehand of course. Everybody was angry, also our contact man because you simply don't ask for the price the beginning of the conversation. Hm, German pragmatic. First mistake. However, I politely told him to present only cars within our budget. Merci.
But No. This is not how it works here. Instead of the price, you tell a model-name or a car-brand that you like. We want a Toyota or Mitsubishi Then he will show you a variety of cars. Before you can even dare to ask for a price, you have to go through the entire program: Car check-up, motor check, Smalltalk, a drive through town, Smalltalk....and then eventually the price. They say: "The price is the easiest to agree on, so we like to speak about the price at last". The EASIEST? Hm, not for us. So basically we spent an hour or two with one car without knowing its price. Only to find at the end of the presentation that it is not our price range anyway :-D However, now that we have learnt our first lesson, next time will be much easier for us to deal with it. But for now, we are still searching....