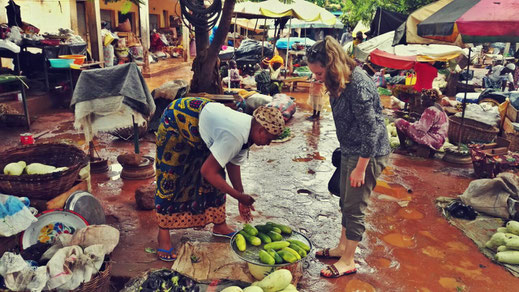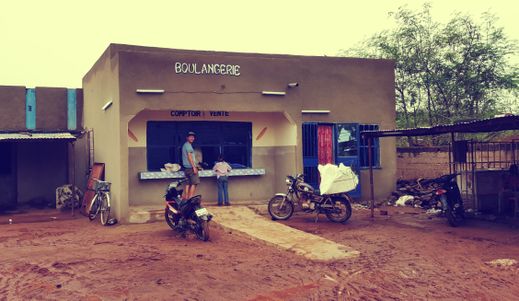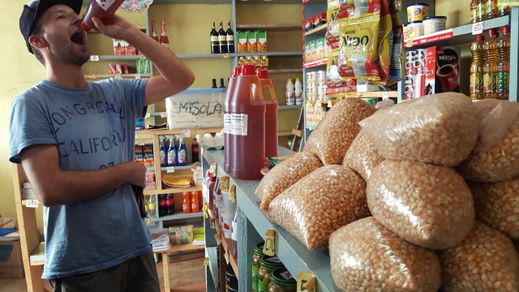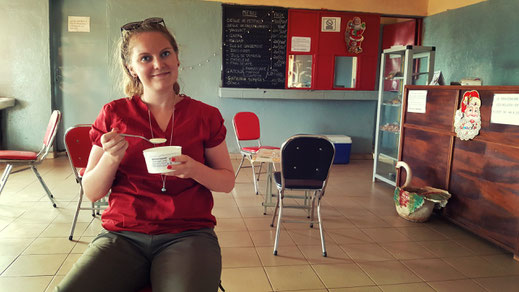 Fresh vegetables: Fada has a big market where we buy seasonal fruits and vegetables. At the moment available: Cucumber, Tomatoes, Onions, sweet pepper, courgette, mangos, papayas, carrots, aubergine, avocado, bananas and cabbage. After rain fall it is a bit muddy though and requires special shoes ;)
Best Bakery in Town. Always fresh warm baguette. There is little variety, in fact, there is only one type of bread ;) But hey, a fresh baguette with cream cheese and jam is super delicious.
Our Supermarket. Well, it is not like in the capital, but at least Fada has some small shops that I would call "supermarket". Pasta, couscous and rice are always available. Apart from that, the variety changes every weeks. Depends what makes it from Ouaga to Fada by truck. Sometimes you can find cheese, milk and even nutella, corn, juices and müsli is available. Last time we checked the supermarket, we found a bottle olive oil.....not cheap though.....12 Euros. Tins of beans, peas and corn available.

yogurt! Yammy. home-made vanilla yogurt. It´s so delicious for breakfast (with fresh fruits) or as a after-shopping-break-with-vanilla-yogurt.