Climbing, hiking and a lot of water!
Wadi Mujib is a dramatic valley close to the Dead Sea and makes a perfect day trip from Amman. In Wadi Mujib you can hike in water, climb waterfalls, swim between the narrow cliffs and have a lot of fun with your friends. It took me two attempts to eventually enjoy the adventure of Wadi Mujib, because I made some mistakes on the first try. In this article I´m going to share everything what you need to know, to plan a hassle-free day excursion from Amman to Wadi Mujib. Enjoy the read and the short film about the trip!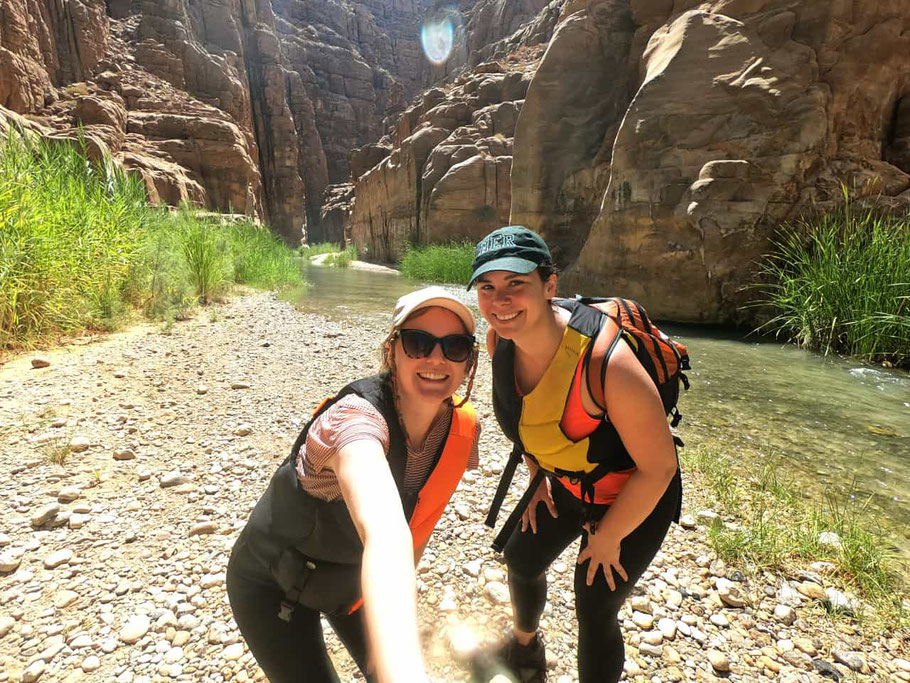 Where is Wadi Mujib?
Little confusion about this. Because if you put "Wadi Mujib" on Google Maps it guides you in the middle of the desert somewhere off Madaba. Unfortunately my friend Sarah and I followed this GPS and were so shocked when the mobile phone stated: "You reached your destination". This area is definitely part of Wadi Mujib, but not the part where you wanna have your hike adventure. So where is Wadi Mujib located? It is very close to the Dead Sea and you have to put "Wadi Mujib Adventure Center" in your Maps.
What to expect at Wadi Mujib?
Wadi Mujib is an adventurous destination for adrenalin-lovers. You are going to hike through the valley of Wadi Mujib, which keeps water all year round. So be sure, your feet will always be inside the water, and most part of it you are actually going to swim. At the Adventure Center they will give you life-jackets. You are going to hike/climb in total six little waterfalls until you reach a very big waterfall, where you can relax and swim. (If you still need more swimming). To climb the little waterfalls, you follow the ropes and ladders that were set up there. Definitely expect that e v e r y t h i n g will get completely wet....
In terms of infrastructure: there are no showers, but changing rooms. Also, you can leave your car key at the reception. They also lend waterproof bags, if you didn't bring your own and need one. Maybe interesting to know as well, that you are hiking the same way back as you came!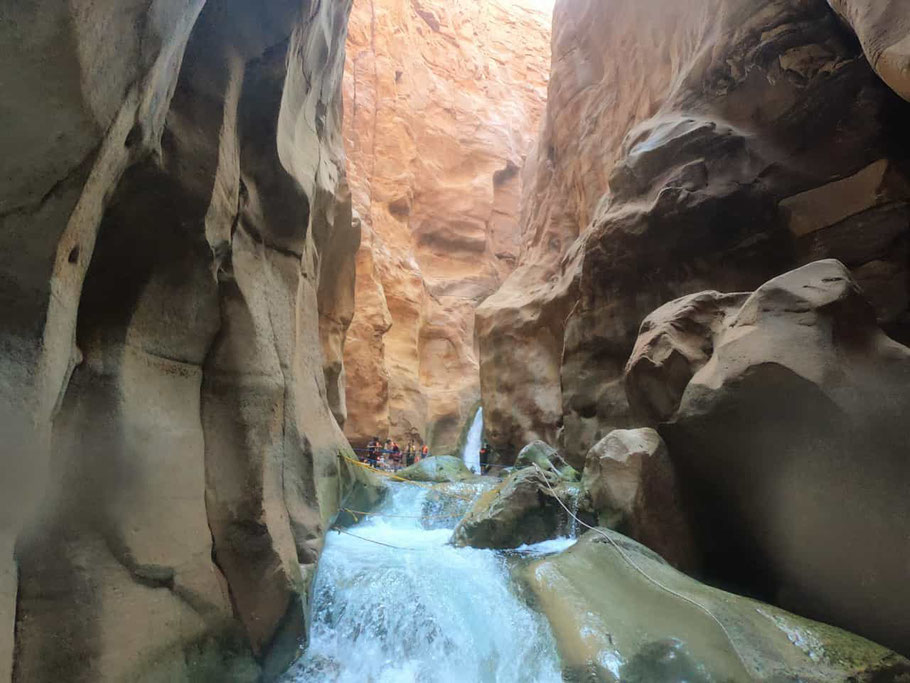 How much is the entrance fee to Wadi Mujib?
Jordanians:
Residents: 18 JD
Tourists: 21 JD
You can also rent waterproof shoes for 5 JD and waterproof bags for a little fee. Or just bring your own.
Storing your car keys at the reception is for free.
What to wear for a Wadi Mujib hike?
By now probably you know that you will get entirely wet. So you might ask yourself, what to wear at Wadi Mujib? We saw people in entire hiking outfits, and we saw people in bikini. Everything seems fine, and lets say as a tourist attraction, people are used to it here. On a public beach you would not like to wear just a bikini, but here it is totally o.k. Sarah and me wore a t-shirt and sports leggins with sports shoes and we can´t complain about our choice :) So the answer in short: Whatever you are comfortable with!
Do you need a Guide?
There are many different trails at Wadi Mujib. The most famous one is the Siq Trail. For which you do not need a guide. Ropes and ladders will guide you. At the most difficult points is Wadi-Mujib-Staff placed, and these guys are very friendly and always ready to help. They oversee the difficult spots and support if needed. They also sometimes manage the "traffic" in both directions. Because actually you are hiking the same way back as you came!
What to pack?
We recommend to bring the following things:
clothes that can get wet
clothes to change
a towel
a hairbrush (if long hair)
snacks (there is no shop in the adventure center itself)
lots of water to drink
a waterproof camera
a cooler box (for inside your car, which will get so hot in the parking)
some plasters and disinfection spray (just in case)
credit card or cash money
What we think you don't need (necessarily) when hiking Wadi Mujib:
sunglasses (apart from the first 2 minutes walking, there is shade everywhere)
hat (same reason as above)
waterproof shoes (was very good to step on the sometimes sharp cliffs with proper sports shoes! )
we didn't need a waterproof bag. We didn't bring our mobile phones in the first place. And we carried our drinking water in a backpack that could get wet.
When is Wadi Mujib open?
The Siq Trail in Wadi Mujib is open from April to October. Outside these months it is too dangerous to hike this trail due to risk of flash floods. The Adventure Center opens at 8am. Last admission is at 3pm. I highly advice you to be there at 8 am. Why? Because it gets so crowded throughout the day, that there are waiting hours up to 3 hours. Reason for this is, that only a limited number of people are allowed on the trail at the same time. Actually that was the reason why we failed the first time we came to Wadi Mujib. We arrived too late and the waiting hours were 3 hours!!!
Another advantage if you make it that early: You might get a parking underneath the roof. And you can take photos with no one else in it. You basically have the trail for yourself! It was a beautiful and peaceful experience.