6 Beautiful Spots around Georgia
Georgia is the perfect country to travel around with a van or RV for three reasons: 1. you can park anywhere. There are no rules against it. 2.You can get fresh water basically at every gas station. So, sustaining yourself in the van is easy without official camping spots. 3. Georgia is beautiful and best explored while driving. It is the best possible way of travel through Georgia in my opinion.
In this guide, I share the some of our cozy spots we found while driving around Georgia.
We rented our Motor Home in Tiflis, with "Insight GmbH" - and were more than satisified.
1. Nature sleep on even ground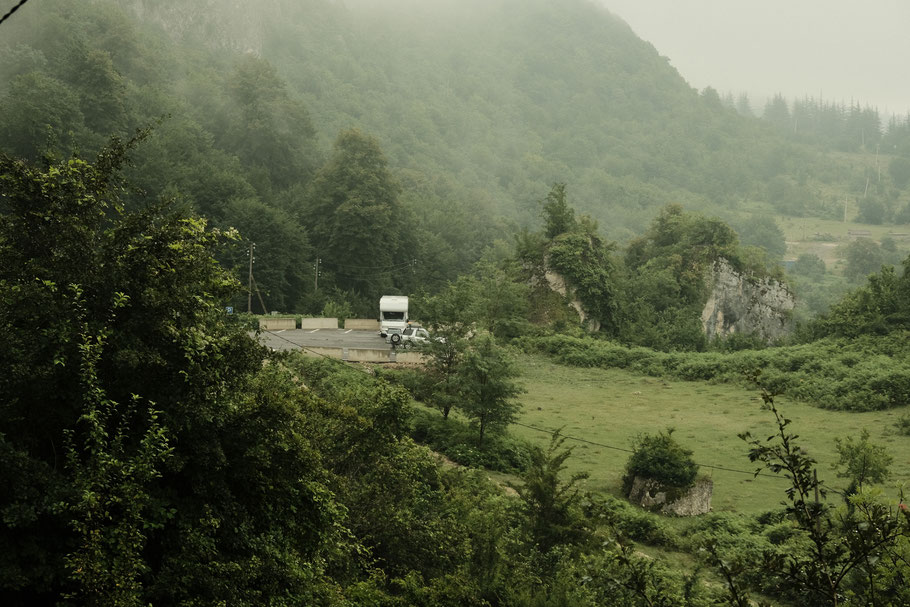 Location: a few meters below Katski Pillar
This spot is one of my favorits in Georgia. Why? Because you are far away from any town or city, high in the mountains, with a very humid climat. At the same time, it is pretty likely you meet fellow van-nomads, because this spot is shared in many guide books and in google. I like to spend the evening picknicks with new people, so it was perfect for us.
2. Abano Lake and hiking start point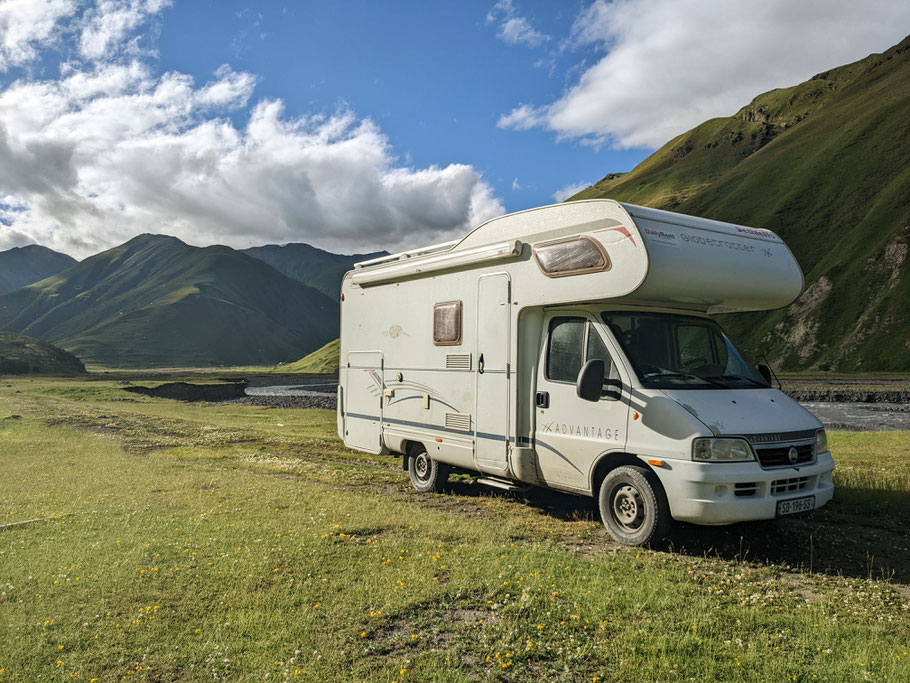 Location: a few meters before the hiking starting point to go to Abano Lake
If you want to go to Abano Lake, you need either a 4x4 vehicle, or you shall hike. The hiking starting point to Abano Lake is the furthest you can probably go with your RV/van/Motor Home.....Many Motor Homes park directly at the bridge, in order to start walking the early next morning. It is therefore kind of busy....also, tours after tours arrive by buses and unload in front of your RV-window. We drove 500 meters backwards and found this cute spot along the river...completly alone...
3. Half way to Stepantsminda
Location: in a tiny village, away from the Highway up to Stepantsminda, by the river
It was more or less an last-second-emergeny-stop and not planned to stay here. We though we move much quicker and reach our next stop earlier. But driving up and down the Caucasus Mountains around Stepantsminda takes much much longer as what Google suggests. Especially with a Motor Home. We were so tired and without any patience. We just wanted to play outside. And then we found this: River, Farm, Football Pitch. And our Motor Home right in between, just off the road. Some contact to the local people included :)
4. Right by the sea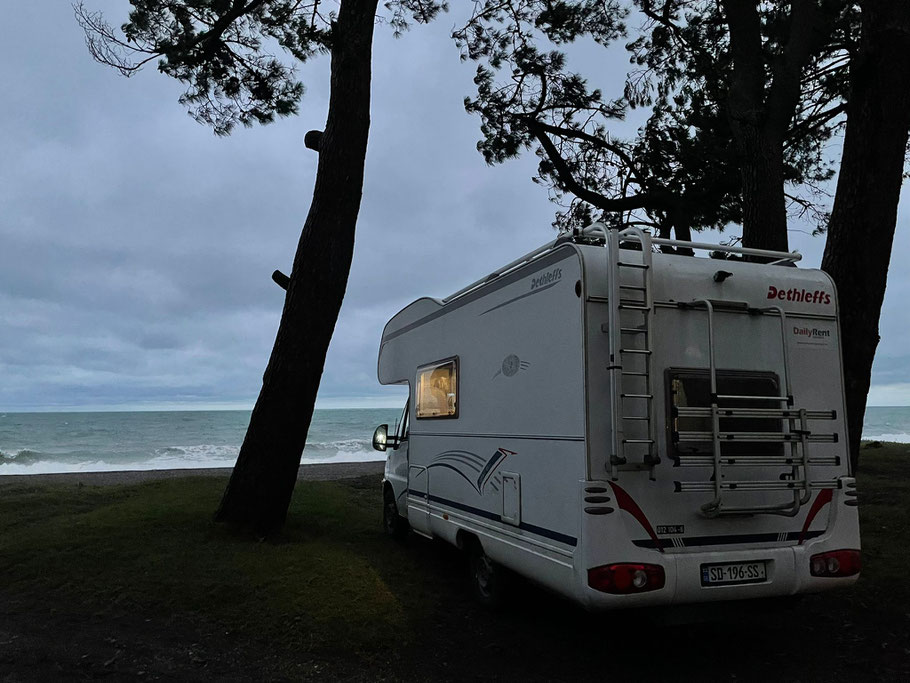 5. Okatse Canyon Parking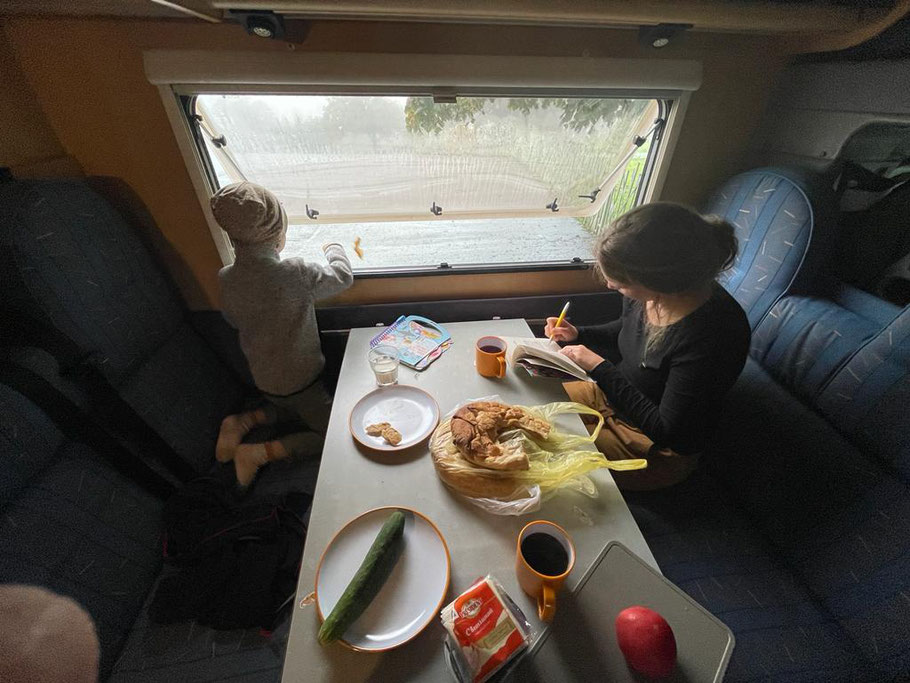 We stayed one night on the parking spot of the Visitor Center of Okatse Canyon. Why? We wanted to be the first in the morning and start our hike early. However, due to rain and fog, the walking trail was not opened on that day. Bad luck. The night was calm and we enjoyed our walk through the town.
6. Zhinvali Water Reserve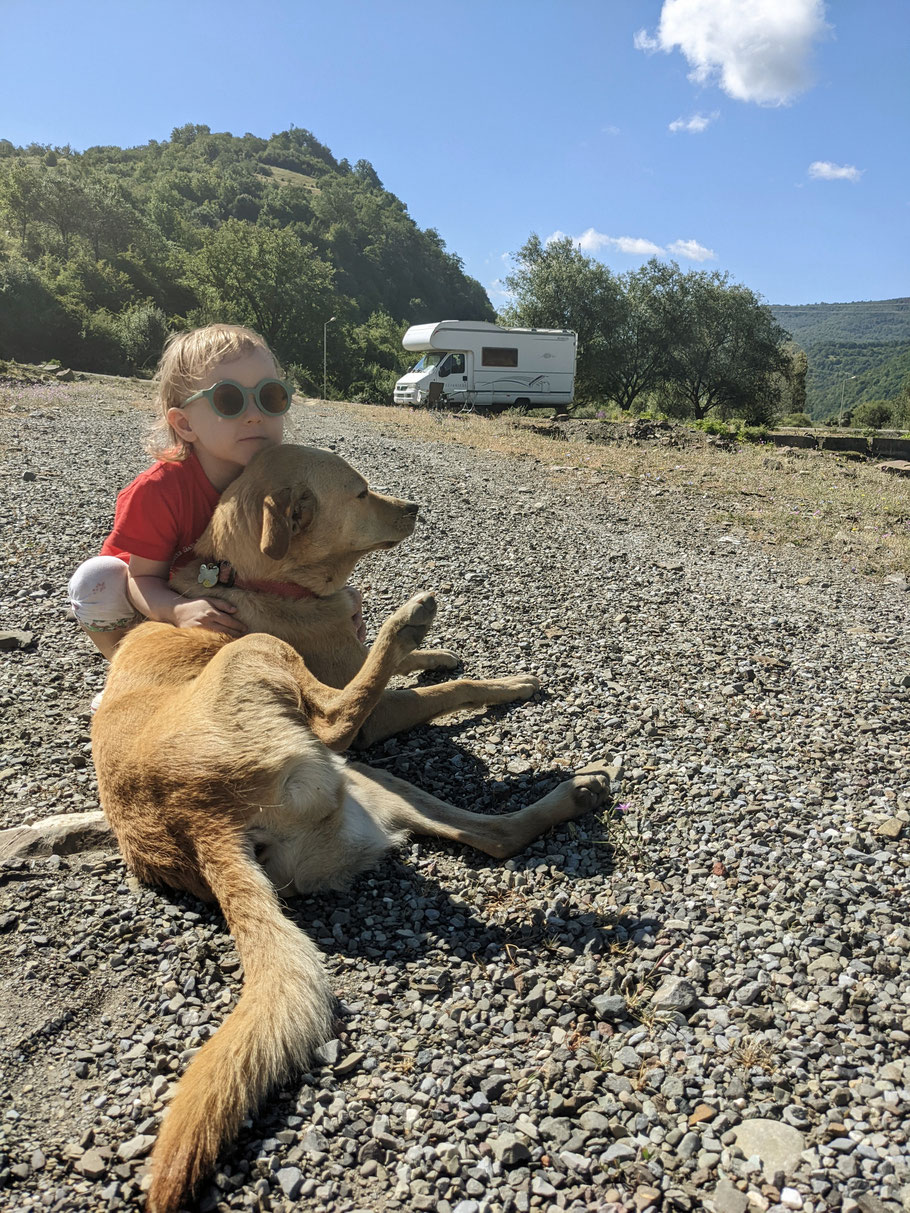 Location: Close to Zhinvali Reserve, by the river, last possibility for vans
Actually, how we ended up here was funny. We identified a perfect night spot fro the other side of the lake....and tried to reach it. Unfortunatly, two collapsed bridges and a gravel path that was ways too steap for our motor home, made it impossible to find the selected spot. So we gave up in a different location and found one other Van with two travellers from France....they wanted to go to exavtly the same spot, but ther van is also not 4x4....united through the story how we ended up there, we spent the night outside our vans together, with French wine and Georgian beer.