Relaxation in 45° C water in Jordan
While Amman is wet and cold, we are looking for a little bit of summer whithout big effort. The warmth is only a short drive away from Amman and you can easily find summer as a daytrip :) All you need to do is to drive towards Madaba and then take the street to Ma´in Hot Springs. Weather here is always warmer than Amman and the best is: You can go swimming all year round - because the water comes extremely hot through a nearby natural source.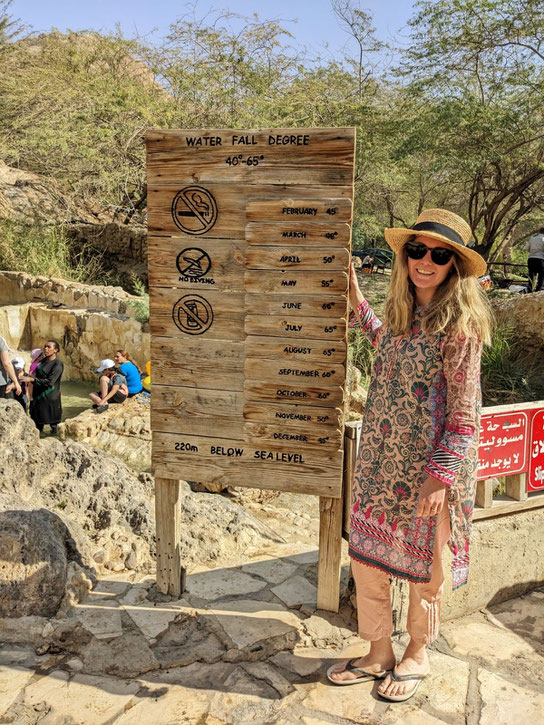 What are the Ma´in Hotsprings?
Ma´in Hotsprings covers a broad area with several pools in different temperatures and some waterfalls. The water comes from a nearby source very in high temperatures, that´s why you can enjoy Ma´in Hotsprings all year round. Especially though in winter, when 45° C feels super comfortable.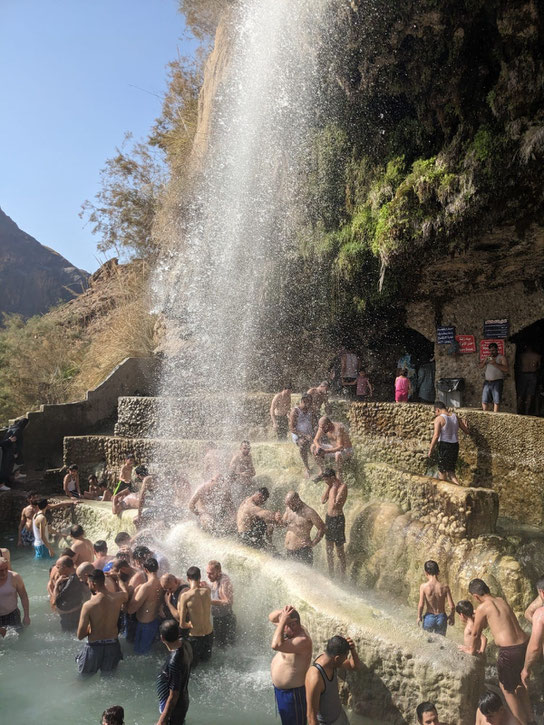 How to get there?
Taxi: you can get to Ma´in Hotsprings from Amman by a hired taxi and arrange with him also your pick up. Please contact Haitham if you chose to go by driver, and he will give you a good rate if you send him greetings from Laura :) His WhatsApp is: 00962799239914
Rental Car: If you rented a car, it is super easy to get there. Just put in your GPS "Ma´in Hotsprings". It is a 50 minutes drive from Amman. 
Public Transport: So, there is no public transportation to reach your final destination, but you can split it up. Go from 7th Circle or Tababor b bus to Madaba. Take a taxi to Ma´in Hotsprings for 15 JD from there and arrange for your departure day a pick up. 
Car sharing: Sign up to one of the Jordan Travel Facebok Groups. There are daily offers around Jordan of other travelers offering empty seats in their rental cars. Maybe you can plan and arrange with some other travelers in order to share costs. 
Public Hot Springs vs. Ma´in Hot Spring Resort
In order to enjoy the Hot Spring from Ma´in, you have two options: The public basins or a stay in the Ma´in Hot Spring Spa Resort. Both is logically at the same location, because both options basically use the same water source. So the entrance area is the same. In the Hotel you going to have your private Waterfall and only one (small) pool. It is less crowded. The hotel site also features another pool and spa area, but you need to pay another 38 JD in order to access it. Various guests also reported that service is not 100% perfect as towels and bath robes were missing....
The public pools show more local life, as families picnicking and playing all day long around the area. Same time, the public pools will be crowded, especially on the weekend, with a majority of male visitors. It is allowed to wear a bikini in both places, however, you might wanna bring an extra t-shirt for swimming to the public pools - but this deepens on your own level of comfort and with whom you are going to come.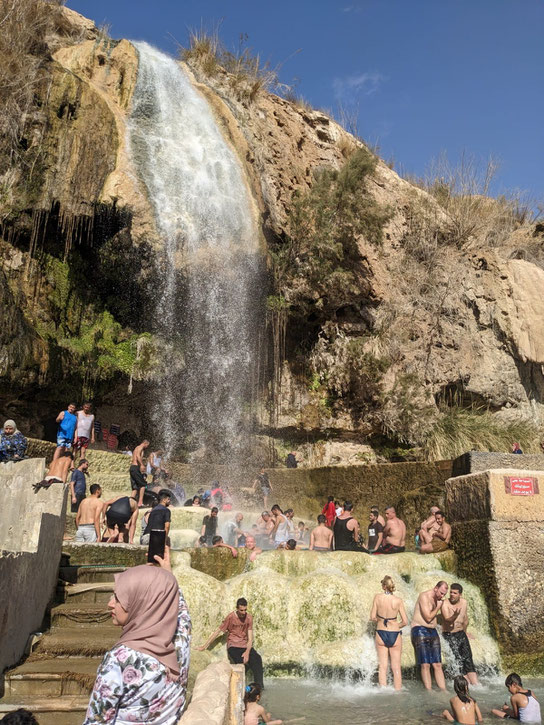 How much cost the Ma´in Hotsprings in Jordan?
The public pools cost per person 10 JD, kids are free. The Ma´in Spa Hotel costs 110 JD per night in a standard double room inclusive a great breakfast buffet. Be aware that the dinner buffet costs 25 JD per person. So you can bring your own food or just drive outside.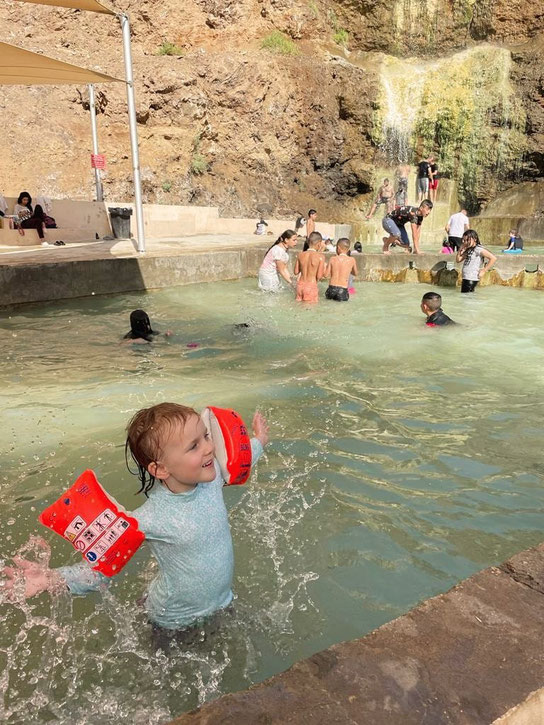 What to do at Ma´in Hotsprings?
If you are staying the the Spa Resport, you might came just for a little relaxation vacation and you are not into doing much. However the are is nice to take some walks and enjoy sunsets from breathtaking view points. For example this location.
In the public pools you can easily spend a whole day, going inside and outside from the various pools, if you have kids: using the playground, or sitting in the shade under the trees, smoking Sisha, having picknick or use the steam bath that is integrated in a cave. 
The public pools feature 4 pools and one waterfall. The first pool is the hottest and it is less crowded. The second one, is a family pool with a playground on the side. The two other pools are around the waterfall and not so hot, however more crowded and exposed. (I´m saying this for foreign women with a bikini) you will definitely get some attention there!