Jordan highest mountain
In a big guided group we hiked the highest mountain in Jordan, called Jabal Umm Adami and is located in Wadi Rum. This hike becomes more and more famous and I would like to share my experience and also give an overview of different offers and some ideas of what a hike might cost you. 
Jordan highest mountain is located in the southern corner of Wadi Rum desert, close to the border with Saudi Arabia. The mountain, Jabbal Umm Adami is 1857 meters high and you can actually walk to the top!
To get there, you should cross the entire Wadi Rum desert and for that you need a guide and a suitable desert car. In this article, I am going to share different tour providers with different offers, so you can pick the most convenient for you.
But first a few basic information about the hike.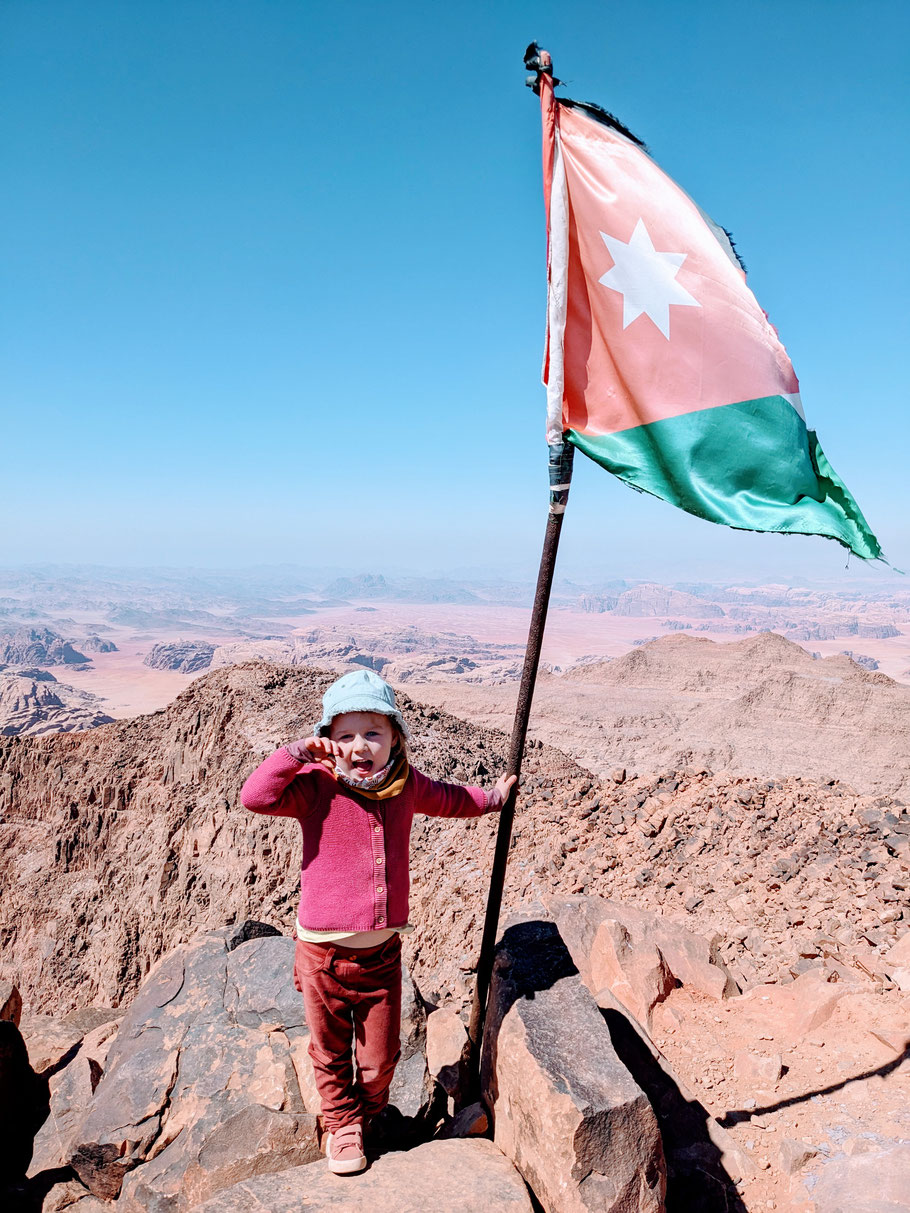 How do you reach the mountain?
From where most of the camps are located, it will be a 2h car ride through the plain desert. It is a beautiful tour and better than any jeep tour I have done. To go up the mountain, it will be maximum 2h and down maximum 3h.
What to wear to hike Umm Adami Mountain in Wadi Rum?
The ride in the pick up across the desert will be windy, so make sure you get long sweaters and in winter also jacket and something to cover your ears. The hike will be in plain sunlight and also in winter you need to protect yourself from the strong sun.
How difficult is it to hike up?
So, you need to climb, you need to slide, you need to use your hands and you need strong legs to pass all rocks and stones. The hike is doable in all cases, we did it with 2 toddlers in the backpack, but there is not really a "path". So take it easy and slow, do enough breaks and don´t rush.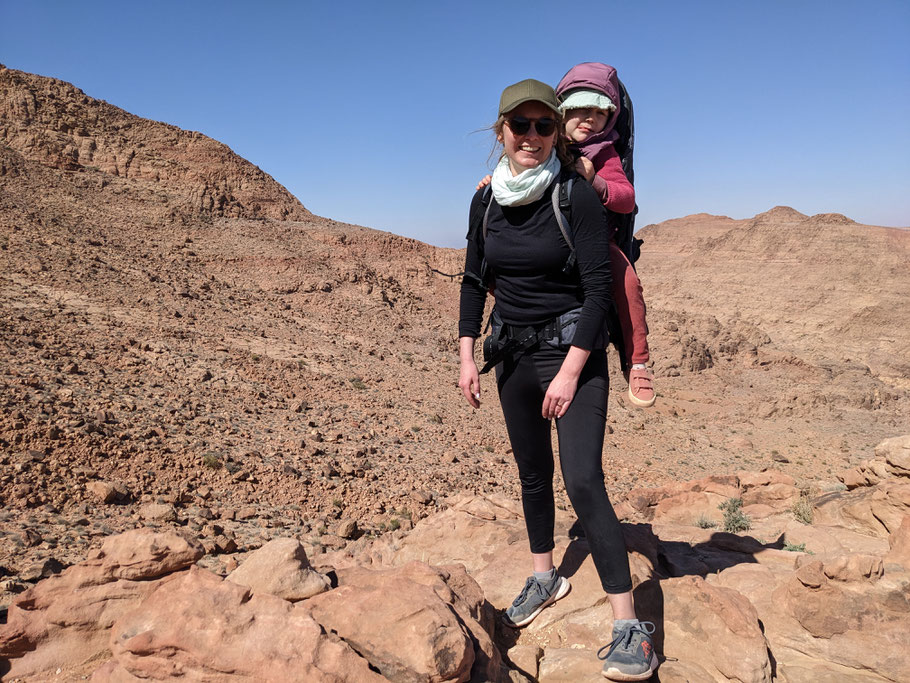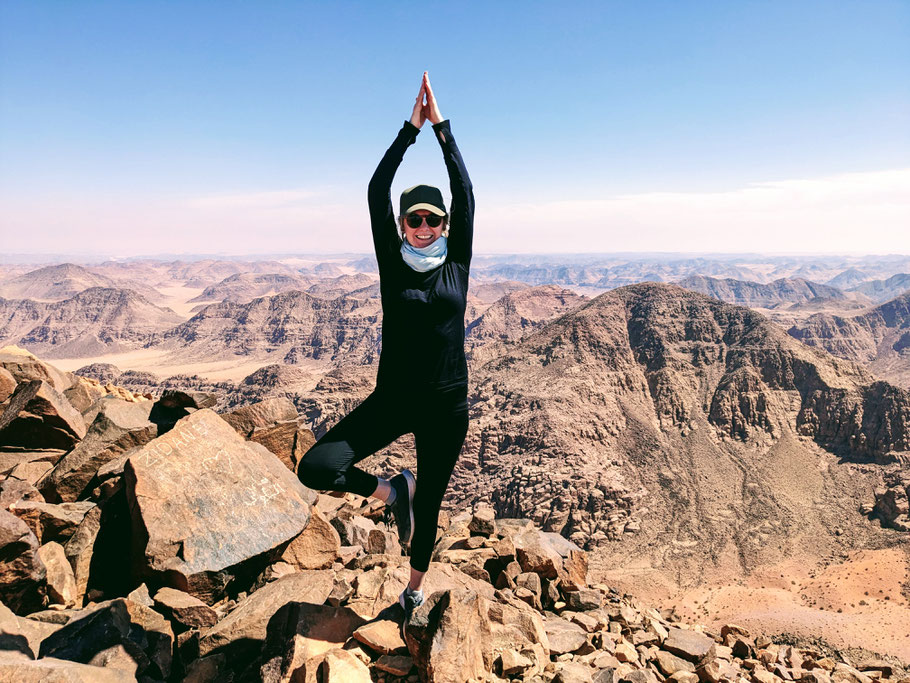 So, now to share a bit about my experience in finding a guide. First of all: All desert camps in Wadi Rum can organise this trip for you. However I got very diverse ideas of prices that would range from 25 JD per person up to 350 JD for a group of 4. So if you want to do this hike, which is more special and unique compared to the standard desert Jeep Safari which costs around 40JD for a pick-up car for 2h, I recommend to chose your camp according to the hike offer – and not the other way round: choosing the camp first and basically depending on their offer.
If you drive with your own car to the desert Camp in Wadi Rum however, you can also chose tour companies which start from Wadi Rum village, because you simply can drive there yourself. If you are just looking for a good Bedouin Camp in Wadi Rum, read my Camp rating here.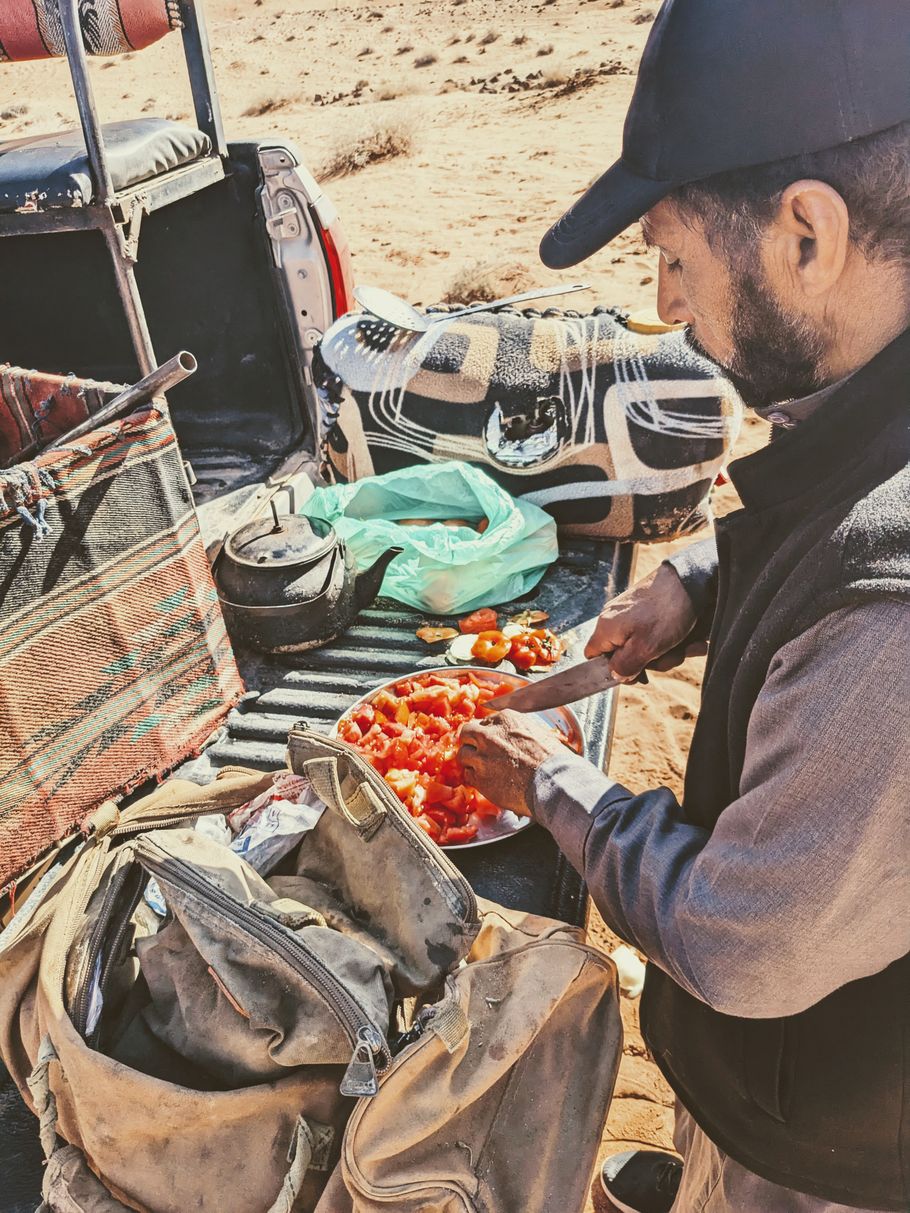 Camp Packages for Umm Adami Mountain in Wadi Rum
Tour Offers for Umm Adami
Sand Star Camp: According to my request the cost for 2 people will be 100JD for the hike and 40 JD for two people for a rooms. Note that this offer includes breakfast and dinner, but no lunch during the hike (which you can book at additional cost). If you are 4 people, it gets cheaper, 120 JD in total for the hike.
Arena Space Camp offers the hike for 180 JD for a couple, and 220 JD for 6 people – so it is cheaper with them for a bigger group. Overnight stay with breakfast and dinner costs 25 JD per person.
Rum Island Camp offers a total package of the hike, the overnight stay and three meals for 145 JD for a couple or 190 JD for a group of 4.  
Miral Camp: 40 JD for a double room with breakfast and dinner, 100JD for the hike up to 6 people including lunch.
There is local Bedouin called Talal who offers the hike for up to 6 people for a total of only 80 JD. He doesn't not run his own Bedouin Camp, so you would definitely need to stay overnight somewhere else and arrange the pick up or meeting point with him. Here is his WhatsApp: 00962797045166