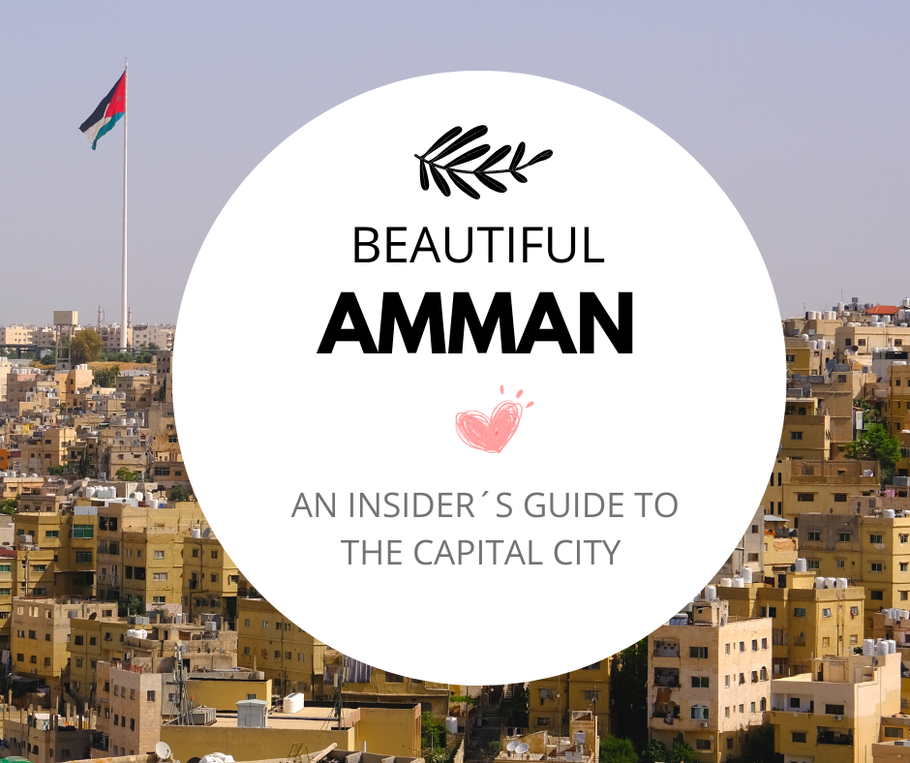 Getting the most out of your stay in Amman - beautiful Capital of Jordan
Last Update: September 2023
We are in love with Amman. Tobias loves the climate (in summer there is always comfortable wind and it is mild) and that you actually have all four seasons here. My daughter Johanna loves that every neighborhood has five different indoor-playgrounds and parks. There are also massive trampoline-parks and many activities for kids. And me - I love about Amman the cultural scene, with lots of concerts, live music, pub nights, and film festivals.
In this ´Inside Guide Amman´we have collected from our various experiences the best of the best recommendations and activities for you. Since moving to Amman beginning of 2021, we are almost every weekend out on an exploring tour and have tested so many cool places all around Amman. And still, we are not running out of locations where we have never been before - after 1,5 years !
We ❤️ Amman.

Time to put our all experiences and collections together in this guide! Not just for other people moving to Jordan, but also to inspire independent travellers about What To Do in Amman.
I also wrote a Guide about Travelling Jordan, where you find information, useful numbers from careful chosen contacts and off-the-beaten-track experiences about entire Jordan ( for example staying with a real Bedouin Family in Petra). Read the Full Jordan Guide here.
On this page you are going to find information about the following chapters:
1. Anticipation for your trip!

2.Neighborhoods in Amman / Where to stay
3. Getting Around in Amman
4. Food and Drinks Recommendations
5. Pub Guide Amman
6. Activities
7. Amman with Kids
8.Must See in Amman
9. Shopping Amman (Made in Jordan)
10. Partying and Live Music Amman
11. Day trips from Amman / Excursions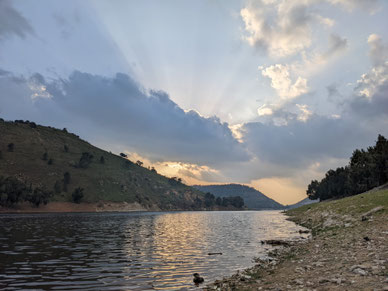 1. Anticipation for Amman / Get to know Jordan from home
Watch "Alrawabi School for Girls" on Netflix. This series caused big discussions in Jordan. It deals with the topic of bullying at Girl´s Schools and was filmed 100% in Jordan. Also, "Lawrence of Arabia" is a great way to get an impressions of the country. It was filmed in famous Wadi Rum, which you should visit as well once here.
Learn already a few words in Ammyha, the Jordanian Dialect of Arabic, from this youtube channel.
Listen to Tarabband and Toni Qattan, real Jordanian famous music bands.
Laugh with a Jordanian/American couple in the funny Instagram Videos where they share useful words in Jordanian Dialect. Instagram: 
hob.learning

2. Neighborhoods in Amman / Where to stay?
If you are searching for a hostel or hotel in Amman, you might ask yourself where to stay. Amman is huge and from one end to th other can be around 45 minutes in traffic! So chose according to what you would like to do in Amman.
Downtown: The area around the Roman Theater. Busy, crowded, cheaper than the rest. Some hostels are located here as well.
Jabbal Amman: The are around Rainbow-Street. Many nice cafés and restaurants are located in this area and also the Rainbow-Film-Theater. Prices are here in average a bit higher, because it is a famous and kind of "hipster" area.
Al-Webdeh: Lots of foreign people live in this are around Paris Square, This is were young Jordanians and International stroll at night. You find many couples and people dressing in all kind of manners. Cozy small streets and little made-in-jordan shops plus hispter Cafés make this neighborhood unique.
Al-Swefieh: Have you heard of Swefieh Village? This is the fancy Downtown area of Al-Swefieh. But there is also the old traditional Al-Swefieh area. Google "Foron Rex Bakery" and you find it. Good for local shopping outside of big malls and to grab your street food at night. This neighborhood is a little bit more fancy, if you want, more "american", with wide streets and high-class restaurants. It´s the perfect place to stay in Amman if you want to explore the Dead Sea or Madaba as a day trip.
Abdoun: This area is veeery posh. You see lots of modern and new apartment complexes. Some of them with pools. Many embassies are located in this area. Almost all restaurants and bistros serve alcohol here. Streets are less crowded, prices are higher. It is a perfect area for running, if you are into sports.

3. Getting around in Amman
Uber & Careem: You might know Uber from your country. In Jordan there are many taxi-apps. I like Careem more than Uber. It is the most convenient way to get around Amman and to Dead Sea. Plus super good prices as well. The way from my house to Rainbow Street will cost you around 2.5 JD only. Also, you can connect your credit card with the app and leave the taxi without cash payment, thus avoid the hassle of change problem.
Airport Bus: Public Transport is very very slow developing in Amman. However, the airport transfer is great. It leaves every half an hour (see schedule) in front of the terminal. It goes all the way from the airport to 7th circle, 6th, 5th…up tot he first circle. With is considered "Downtown". The bus is happy to stop any time along the road, not only at the circles. The fare is 3 JD. If you want to use the airport shuttle to reach my place, I recommend getting off at this location.
Rental Car: You can also easily hire a rental car. I think most local driving licenses are accepted. I didn't need an international driving license. Inside Amman I still recommend a taxi, because of heavy traffic and you can enjoy the view better. But once outside the capital, driving is very easy. I rented a car with this guy for 10 months and still get pretty good rates, you might try this Whats App contact and send greetings from Laura: Hassan Enterprise 00962778000363.
Driver: If you don't want to rent a car, but go to some remote locations where no public transport is available, (for example to Wadi Rum) you can always hire a driver for a day or two. I met and tried several drivers but now I stick to Haitham. Why? He has the best rates, is super professional, speaks English fluently, always punctual and has a very good driving style. In addition to this, he tells the most amazing stories about and from Jordan and Iraq and other Middle Eastern countries, which leave you with your mouth wide open listening to his experience. His Whatsapp: 00962799239914


4. Food and Drinks Recommendations
Amman is your city to eat out! Actually you could spend your time from morning to night in all kind of restaurants in Amman. Here are my favorite spots for food, coffee and drinks in Amman. For only drinks, check my Pub-Ranking Amman as well.
Gaya

: This restaurant is calm, modern, very clean and has a beautiful garden terrace. They serve delicious homemade food. Local cuisine, exotic salads and burgers. Alcohol available. Vegetarian friendly.
7attouteh

: great Jordanian Mezze. Perfect place for breakfast, lunch, dinner or snacks ;) all the nice plates that Jordanian cuisine has to offer to share it with friends...Vegetarian friendly.
Foron Rex: This bakery makes you feel at home. Perfect place for baguettes, proper dark rye bread, fancy olive bread and little pastries. There is a bench in front of the flower-decorated sidewalk where you can eat. Also nice to get your food here for your day trip as snacks on the road.
Little Italy

(Inside Taj-Mall): Ok, you are in Jordon and may be not in need of Pizza? But the environment is worth it. Instagram like with little lamps in a lush green garden.
Wild Jordan Center: Wild Jordan Center is legend is Amman for three reasons. First, the view. You actually see the Citadel and get a wonderful impression of how Amman was build on seven mountains. Second, you can book ecotourism tours from here in whole Jordan. Third, they have a nice gift shop with local tea herbs and products from women initiatives.

02: This secret gem is a short drive in the outskirts of Amman. It is a nature cafe, and you sit on recycled chairs. You overlook the valleys until the Dead Sea. They have hot and cold drinks, ice cream, crisps. It is highly appreciated to bring your own food by the owner. Here is the location.

Shams El Balad: This is the place if you want Jordanien food, and if you want to explore something else than rice. Highly recommended for vegans and vegetarians as well. The garden is amazing. Anybody said Jordan is a desert country?

Habiba Sweets:

Try Knafeh: I remember my first time in downtown....i saw this massive queue...And I asked people what they are waiting for: Knafeh - was the answer. Knafeh is the famous Jordanian desert, a mix of cheese cake and cookie. Apparently, people from all over Jordan come to this place. It does the best Knafeh in the country.



Nowwara:

This beautiful restaurant is located on a mountain edge with spectacular 360° view. It is a short drive (30 mins) outside Amman, surrounded by nature and has the flair of a big open air beergarden or an "Alm" in Switzerland. (Though no alcohol served here :) )

5. Pub Ranking Amman
I had a time in Amman, where my favorite free-time activity was to explore different pubs and beer types with my friends. So we started to actually collect our experiences and the Happy Hours of each place. If you are into beers or pub-atmosphere you wanna check out my Pub-Ranking-List. Cheers.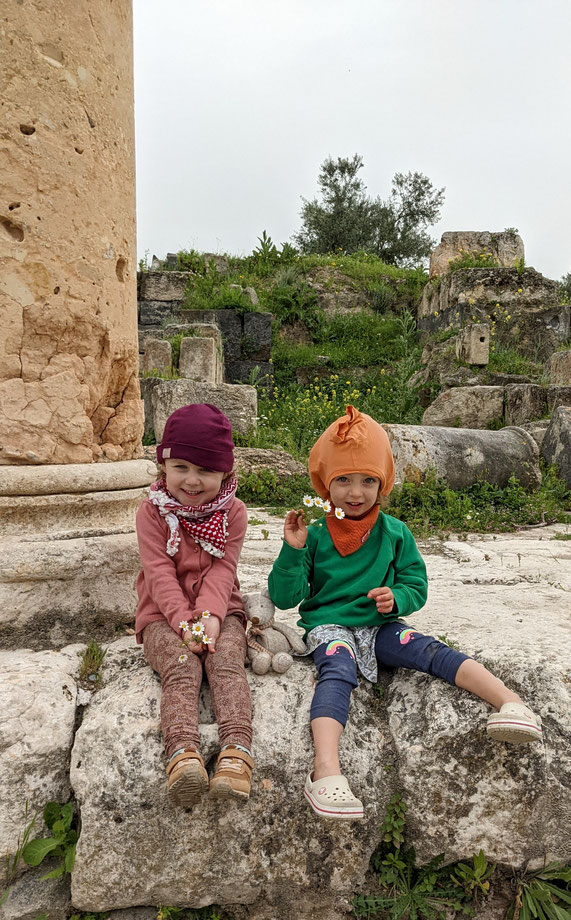 6. Activities
Take a cooking class at

Beit Sitty

, on the beautiful rooftop
Take a spa day at a Turkish Bath and get

your

full body scrub. It is seperate genders and for girls I highly recommend Gaias Cocoon.
Go wild at one of the trampoline parks, for instance "

Gravity Indoor Park

" in Mecca Mall.
Study Arabic. LACC offers any amount of classes, even if you want to take only 2 hours. It is 11JD per hour.
Watch a movie at the Rainbow Film Theater. They alsmost have a screening every other day,

free of charge

, from directors from the MENA region!
Go Swimming (if not at the Dead Sea --- see Daytrips) you can pay a fortune at any Hotel Pool or you go to this swimming pool: Al

Ahli Club Swimming Pool

. It is 15 JD entrance fee. Saturdays is female-only.
Join a

local hiking group

on Fridays and Saturdays. Check for example the program of Tracks, B Adventure or Take a hike Jordan.
Volunteer at and visit Alia Eco Village and escape the city stress. This eco village is build by mud and glass bottles only. You can sleep in one of the beautiful mud houses, it is an experience and Khaled is happy if you can support him with your help for some days. Here is a detailed report I wrote about Alia Eco Village. Contact Khaled on WhatsApp: 00962795545574
Join Nader Bikes on Fridays for 18 JD including bicycle, helmet, dinner, transportation and ride your bike around Jordan. The Facebook page is not up to date, better to contact him on Whatsapp: 00962799142273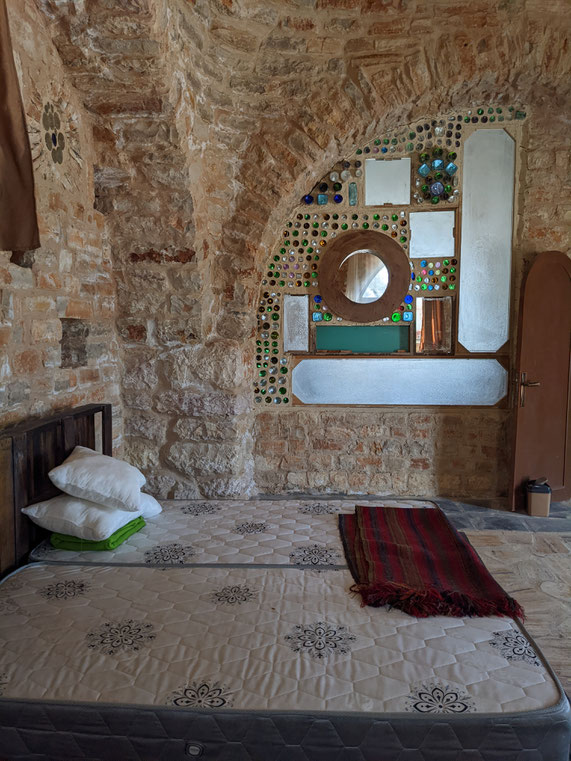 7. Amman with kids
When we moved to Amman, Johanna was 2 years old and not going to a nursery yet. So we had lots and lots of time of exploring all the nice kids activities Amman has to offer. Our favourites are: Children´s Museum, Al Dyar Park, Kidose Indoor Playground (Frosties Ice Cream is just next to it - what a coincidence). We have a full comprehensive guide what to do with kids in Amman here.
8. Must-See in Amman
A visit to Amman would not be complete if you do not see the following sights. Please note, that these are not the common sight inside guidebooks. It is only according to our experience. Many sights, like "Rainbow Streets" did not took our breathe away as promised, so we will not mention them here.
Citadel

. If you can, do it early in the morning for perfect view, best photos and some silence before the crowds arrive.
The Roman Theater. Climb up to the highest point and close your eyes for one minute.
Abdali Boulevard.

Is this still Jordan or Dubai?
Downtown by night

, especially on the weekend. Welcome to real Amman.
Mt. Nebo: Not exactly in Amman, but on the way to Madaba. A fantastic view point over Palestine and Israel.

9. Shop Local in Amman
Here I collected for you some nice local brands. Bring a souvenir for yourself or your best friends at home. And avoid the tourists trap on rainbow street.
Zalatimo Brothers for Sweets: This

authentic Jordanian

brand for sweets has much more to offer than baklawa. And even the baklawa is less sweet and more tasty. My absolute favorite is the chocolate balls selection.
Gold Street

in Downtown. Are you into gold jewelry? Do not miss this street in Downtown area. You can make a very good deal, much cheaper than in your home country. Around this area.
Avenue Mall: There are many fancy malls in Amman. But this one is very unique and offers on the

ground floor

super nice dresses made-in-Jordan.
Check out

Souq-Fan

for really unique Jordanian stuff. You can order online (you do not need a permanent address in Jordan, you send your location on whatsapp) or you can check out their store in Haya Cultural Center.
Wild Jordan Center has a gift shop with herbs, teas and hand-made things from

women-initiatives around Jordan.
If you like 100% natural cosmetics - Amina Skin Care is for you. This absolute amazing label is located inside Swefieh Village, Even the shop itself is

an experience.
Tribalogy is your brand when you want a handbag, a bag, a wallet or notebook bags with this typical Jordanian print. All from 100% recycled material and 100% made in Jordan. Be aware that you

can addicted to their prints

and work. Order online on Instagram or check the latest bazars in Amman, where they are represented.
Lilac Chocolate: wonderful tasty

dates

, covered in creative dark/white/strawberry chocolate or nuts. Each date looks like an art piece.
Smize: Finnland meets Jordan. A finnish designer works with local carpenters and together they do great decoartion from wood.
My most most most favourite brand for Dead Sea products with a modern start-up touch, parabene-free and cruelty-free prodcuts for each skin to a very very reasonable prices. Its name is Natural Glow Jordan. Check out their website, where you can order to any location in Amman.
If you are visiting between April and September, visit

Souq Jara

off Rainbow Street, a local handicraft market. 
Check out "Bedouin Spririt", a one-woman online shop for

bedouin-style

pillow cases, laptop bags, hand bags and cardigans.
Checkpoint-Puzzles: A guy from Syria now makes the most beautiful photos of Jordan´s main sights and makes high-quality puzzles out of it. He has a cooperation with the Royal Automobile Museum and and gets the most beautiful cars in front of the most beautiful areas in Jordan. Such a nice gift or souvenir. Order on Insta.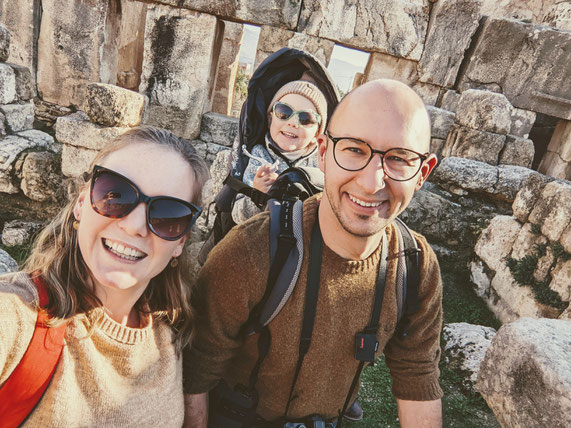 10. Partys in Amman
Yees, you got it correctly. Amman is a great city for pub-nights, concerts, parties and live-music. Check out "7hillsjo" on Instagram for weekend events, live music and Dj-Partys.
Biera is all what you want if you like beer. It´s a micro-brewery with 5 different kinds of beers. Their rooftop lounge is amazing, food too.
Zorba Rooftop has various parties each weekend. Their afro-beats-parties are the best !
Shams El Balad has a Dj-night every Thursday night for 5JD entry fee. Better to have a reservation. Come hungry, because their food is maybe one of the best in Amman.

11. Daytrips from Amman
Amman can be your base and you can plan beautiful day trips from Amman. The easiest is if you have a rental car, but can be with a driver too. Some places have public transport (like Madaba, Jerash) and some places even work with Uber (Dead Sea).
So here comes my list of best day trips from Amman.
Iraq Al-Amir: It is rather off the beaten track. Located in a small village, which is beautiful for a walk anyway, you find this

old ruins and cave city.
Madaba: Just 45 minutes from Amman...here you find lots of authentic souvenir shops, more than six churches, lots of antique mosaics and a

car-free-shopping-street

. Do not miss to drink a "Karak Chai" at Kawon Vegan-Restaurant and Bookshop.
The lowest point on earth. The Dead Sea. Just 50 minutes drive. You have to have a swim. Either on one of the public beaches (this is a secret spot, if you ask me, the most beautoful public spot to entder dead sea: here) or with a

day pass for swim & lunch

at one of the resorts (around 30 JD per person)
Another perfect daytrip from Amman makes the Scandinavian Forest. First,

you can take a hike

and then you deserve a dinner with a view at Syndian Resort.
For sure you wanna visit

Um Qai

s in the north of the country. I highly recommend the restaurant which is located inside the historical sites. It is beautiful scenic, the view is stunning. The name is: Um Qais Rest House.
Take a walk around King Talal Dam and think that you are in Georgia or Canada, especially in spring!
Do you like adventure trips? Then you have to visit Wadi Mujib. Wadi Mujib is an adventurous destination for Adrenalin-lovers. You are going to hike through the valley of Wadi Mujib, which keeps water all year round. So be sure, your feet will always be inside the water, and most part of it you are actually going to swim. Read all the details and watch my mini-video here.
Volunteer at and visit Alia Eco Village and escape the city stress. This eco village is build by mud and glass bottles only. You can sleep in one of the beautiful mud houses, it is an experience and Khaled is happy if you can support him with your help for some days. Here is a detailed report I wrote about Alia Eco Village. Contact Khaled on WhatsApp: 00962795545574
Swim all year round at Ma´in Hot Springs in a natural hot water pool. Check all my information about it and see photos in my blog article.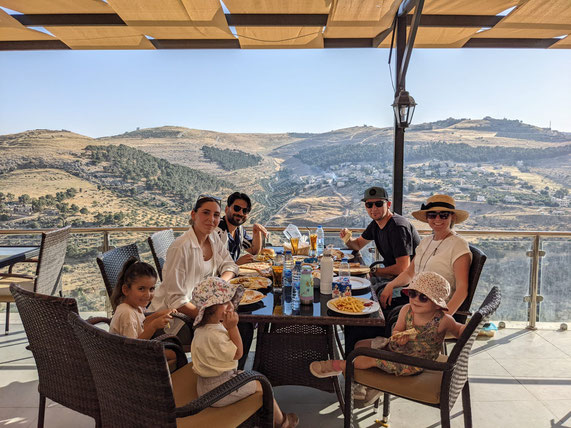 ---
Do you like this open-source Guide to Amman? Do you wish something to add? Please leave me a comment. Thank you so much !