Your full travel guide to Aqaba (Jordan)
You are planning to travel to Aqaba or you already landed there? This blog article helps you to make the most of your time in Aqaba. This article includes restaurant recommendations, hotel places to stay in Aqaba and also lots of sightseeing ideas for this little beach town. Enjoy your time in Aqaba and please let me know if this guide is missing any information! 
Travelling to the rest of Jordan? Make sure to check my Jordan Travel-Directory!
Visiting Amman? Read my Amman-Inside-Guide 
Last Updated: January 2023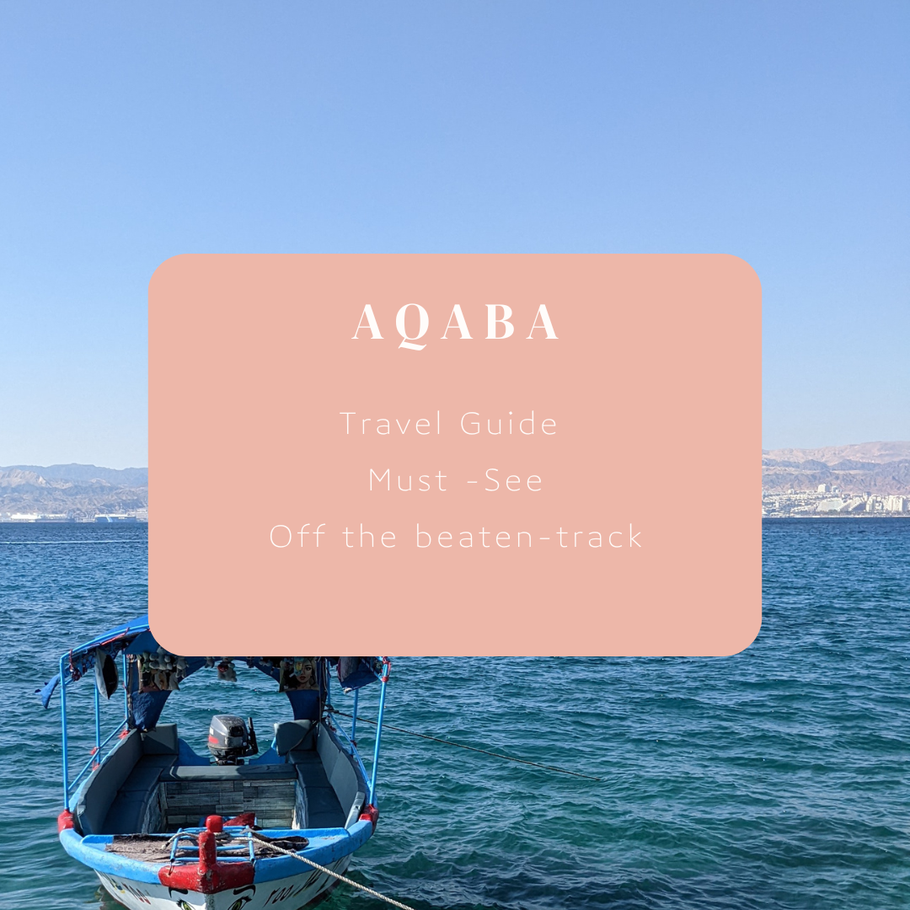 Chapters in this blog article:
1. How to get to Aqaba?
2. Hotel Recommendations 
3. What to do in Aqaba?
4. Sightseeing Ideas
5. Beaches in Aqaba 
6. My favorite Restaurants in Aqaba
7. Daytrips from Aqaba
1. How to get to Aqaba?
Aqaba is a tourist hot-spot in Jordan and that´s reason why this little town is connected very well to other cities and the world. You can travel to Aqaba in different ways and these are your options.
By Air
Low-Cost Airline Ryanair flies to Aqaba from 6 different cities in 5 countries: Vienna, Sofia, Rom, Milano, Cologne (Oct-March) and Brussels. EasyJet offers also the route Berlin - Aqaba, and flies as well to London and Geneva. Royal Jordanian flies twice daily to/from Amman for under 100 JD. 
By Bus
You can travel from/to Amman by direct bus connection with Jett Bus. There are multiple options every day. Jett Bus VIP costs 20 JD and includes Wifi, snacks, and very comfy chairs. The normal Jett bus charges 10 JD per one way. Check their schedule and book our seat online. In Amman are two bus stations which you can check out: 7th Circle and Abdali. Please note that the VIP Bus only goes to 7th Circle. The journey takes around 4,5 hours. 
By Car
Of course with a rented car or by hitchhiking you can reach Aqaba. The way from/to Amman takes 4 hours by car and the route is in a pretty good condition and straight forward. Make sure to obey the speed limits, because police is very present on this "Desert Highway". 
By Driver (also within Aqaba) 
Hassan is a very trustworthy driver and I used him many times and he has the cheapest rates in entire Aqaba: 00962790373104 his number WhatsApp. 
2. Hotel Recommendations for Aqaba

Aqaba is a resort town. It can be very hard to make a good choice from far, only by online booking. So I am happy to share a few words about Hotels which I can really recommend. Of course there are so many more options! Especially for 5-star Hotels you can find a lot of information online. So I am going to share more about mid-range options, because people aiming for high class resort are probably anyway not reading a backpacking travel blog :) 
Cloud 7 
To start with Cloud 7, this is a very unusual "Hotel". In fact, all rooms are so-called residencies, because they are entire apartments with balconies or massive terraces. Cloud 7 is located inside a gated community called "Ayla". A car-free neighborhood with a handcraft market along the promenade opposite of the yacht harbor. There are more then 10 restaurants, kids activities, wellness center and a supermarket. I enjoy staying there much, and even if not, I highly recommend to come for a stroll in the evening. 
Bedouin Garden Village
This Hostel is indeed a little village. The colored houses are surrounded around the reception area and the swimming pool. You straight away get this feeling of Community living here. Vibes are nice. Bedouin Garden Village is located only 80m from a very nice beach with a playground. The Hostel is outside Aqaba, 20 minutes drive from the city center in a very peaceful, calm neighborhood. Also, this budget option is recommended for divers. Because there is a PADI Dive school located just inside the hostel facilities and Mahmoun is a very professional and kind dive instructor. Many of my friends did their first dive ever in their life with him, and are highly satisfied. 
Laverda Hotel
This mid range Hotel is a classic Hotel, clean, and very good located if you like Downtown Area. Right in the middle of restaurants, shawarma places and shops. 
3. What to do in Aqaba?

Now let´s go to the fun part: Aqaba is the place to do some great stuff such as diving, tax-free-shopping or sports activities. You are into cultural experiences? Aqaba offers it too. And for families are amazing activities too, which is a great opportunity also to merge with locals and to observe the Aqaba-culture more. Here is my favorite list. 
Join a Bedouin Storytelling Experience
You will go in the desert to clean-up tour for 1 hour in 4*4 cars (optional) then catch the sunset followed by a Bedouin session in a Bedouin tent at the Disi women cooperative place and the Hakawati session begins and the narrator starts telling old cultural stories where Lentil Soup and Bedouin tea are served. Price is 20 JD per person, Here is the link.
Pottery Class
You will be working and guided by a local artiest on making handmade Ceramic pieces and learn how to engrave your names on the products that you make. Price is 25 JD per person. Here is the link.
Bedouin Cooking Classes
Learn original recipes from the desert. Price is 25 JD per person and the tie varies. Check out the details here.
Scuba Diving
At the South Beach in Aqaba you can see a wonderful and stunning underwater-world. I recommend Dive-Instructor Mamoun, because he is has a international PADI license and his equipment is very modern. All my friends who followed my recommendation were so happy and some of them even continued diving after their first experience with him. A dive takes including the preparation and a short drive around 2h and costs 25 JD. Free GoPro Videos provided later on on Whatsapp. Contact Mahmoun on WhatsApp; 00962795008821. You can also rent snorkeling equipment there. Read about my first diving experience here.
Aqabawi Experiences 
This is an agency that engages only in local community support and women empowerment. Aqabawi has a great choice on local cooking and cultural experiences, for instance snorkeling for cleaning the sea, sea glass jewelry making or dog shelter conservation. It´s highly recommended to check out their website. 
Renting Bicycles 
Aqaba can be explored by bicycle...the town itself is not huge (as for example Amman) and there are even some streets with proper bicycle lanes. You can either rent bicycles inside Ayla (they provide even a self-guided-plan for a round tour) or at this location in Aqaba City: https://maps.app.goo.gl/KpfnuRejn8fooeu18 
Soft Playground for Kids 
Above the Carrefour Market in Aqaba is a nice Kids Playground where an hour costs only 2 JD. 

Shopping 
You can shop Tax-Free in Aqaba on certain products. For example Alcohol and Nuts are reasonably cheaper than in Amman. If you like browsing and strolling I highly recommend an evening walk through the area around Aqaba Park. To buy typical Arabic Sweets I recommend Qa´shoo Sweets also to buy treats as souvenirs at home.
Glass Bottom Boat 
There is no way to walk along the Public Beach of Aqaba without getting an offer to ride a glass-bottom boat. The price system is a bit wild, from 20JD per person (which for sure is too much) to 5 JD (which sounds unreal) everything was proposed to me. 
Submarine Boat 
The glass-bottom-boat has small glass to look trough on its floor. But the submarine boat in Tala Bay is a whole new experience. You literally go underwater and embark on a 1.5h journey to the most interesting places in the Gulf of Aqaba. Price per person is 20 JD.  Here is there WhastApp, you can register with them: +962 7 7943 0969
Open Air Playgrounds for Kids in Aqaba:
Right at the public beach. Here is the location. 
At the South Beach in a very brand new nice park. Location. 
4. Sightseeing Ideas for Aqaba

Get around town and experience a culture that is different from other big cities such as Amman or Irbid in the North. Getting around Aqaba gives you a feeling of how live goes in this bustling beach town at the very South of Jordan. 
Flag Pole
This massive 130 meter high flag pole was until 2008 the highest flag pole in the world. Nowadays it became the 7th biggest flag pole worldwide but nevertheless its worth a visit. The flag pole is located in the middle if a nice square right at the sea. 
Al Hafayer Park
A nice park by the beach with a good coffee place called "Sea View". 
Ayla
This is a gated community but you can enter by just saying you go for food and shopping in the Marina Village. There is a wonderful promenade, a harbor and high class local made shopping brands. 
Aqaba Aquarium 
In this Aquarium you can see some fishes, snakes and plants that live under water in the Gulf of Aqaba. The entry fee is 7JD for tourists and 1JD for residents. 
Yamaniya Park at South Beach 
This is a great park for kids and for running. It´s a brand new park with two playgrounds and also nice viewpoints for cars. 
5. Beaches in Aqaba
Your main reason to come to Aqaba is most probably only this one: Have a relaxing start or end of your trip right by the sea and swim and get sun-tanned. This is for sure possible, either on public or private beaches. Read the following tips and you are you know where to beach-time in Aqaba. 
Al-Ghandour Public Beach
This sand stripe in the middle of town is a public beach used by residents a lot. There are free umbrellas and lots of water activities to book on the sport, like glass-bottom-boats. For women, I would recommend to wear something more modest as I have never seen any woman in swimsuit inside the water, though it is not forbidden for sure.  
Yamaniya Beach Public Beach
This is one of the beaches at the South Beach...it is already more touristy and there is a small shop to buy drinks and snacks. The beach is close to a brand new park with running trail and playground. 
Berenice Private Beach Club
A very nice Beach Club that is much more than sand and sea! Here you can book experiences, eat, and use also the pools. Price per person is 13 JD, they do offer packages for 4,6 & 8 days. 
Rainbow Reef Public Beach
This Beach is very beautiful and has great vibes. This is the set-off-point for all divers to discover the amazing Rainbow Reef under water. It is a touristy place so feel free and comfortable to use your Bikini!
South Beach
This is your beach when you stay at Bedouin Garden Village Hostel. This beach is pretty as the Yamaniya one but has more privacy because less people.
B12 Private Beach Club
A very nice Beach Club located inside a community called "Ayla". Looks very fancy and features also two heated swimming pools. Price per person is 20 JD (If you staying in Ayla, it is just 10 JD). 
Tala Bay
Tala Bay offers a nice beach, also for kitesurfing. It is not free, so at the entry gate you need to pay a day pass or the entry fee in order to Dine in one of the restaurants. If you booked a trip with the submarine or signed up at the Kitesurfing school though, entry is free of charge. 
6. My favorite Restaurants in Aqaba

You will never lack food options in Aqaba. But depending on where you stay, I recommend these "special" dining options. 
DeSoto Tala Bay
It is worth to visit Tala Bay anyway, This gated community pushes your holiday vibes directly up to 100. This neighborhood is nice for walks, sunsets and there is a playground. DeSoto is my favorite restaurant, they offer good Italian food and their location is just stunning The tables are literally by the sea, directly at the harbor. To enter Tala Bay, you pay 10JD at the gate which will be substituted from your dinner at DeSoto, 
Mirchi in Ayla 
Another neighborhood project is Ayla. There are more than 10 restaurants located and I like the Indian one called "Mirchi" most. The view is just stunning, right on the car-free promenade by the sea. 
Khubza & Seneya
A local restaurant which I like because has great vegetarian options. Right in the middle of the bustling shopping street in Downtown Aqaba. 
7. Daytrips from Aqaba

If Aqaba is your base duing your vacation in Jordan, you wanna go and explore as much as you can from Aqaba in Daytrips or short trips, right? So here is the list with places you can easily visit in a day, either by renting a car, or by my trusted driver with the cheapest rates in Aqaba: Hassan is your man. His number: 00962790373104.
Petra
UNESCO World heritage site. Make sure you visit this phenomenal sight. The driver charges 50 JD (without waiting time) but you can negotiate your individual plan. Driving time from Aqaba to Petra around 2 hours. Here is my blog-article about Petra. 
Wadi Rum 
Experience this space-like-environment and see where "Indiana Jones" was filmed. Stay in one of the isolated desert camps. Aqaba to Wadi Rum by car is around 1h.
Dana
Karak
Dead Sea
---