Swim in Jordanian Dead Sea with a Day Pass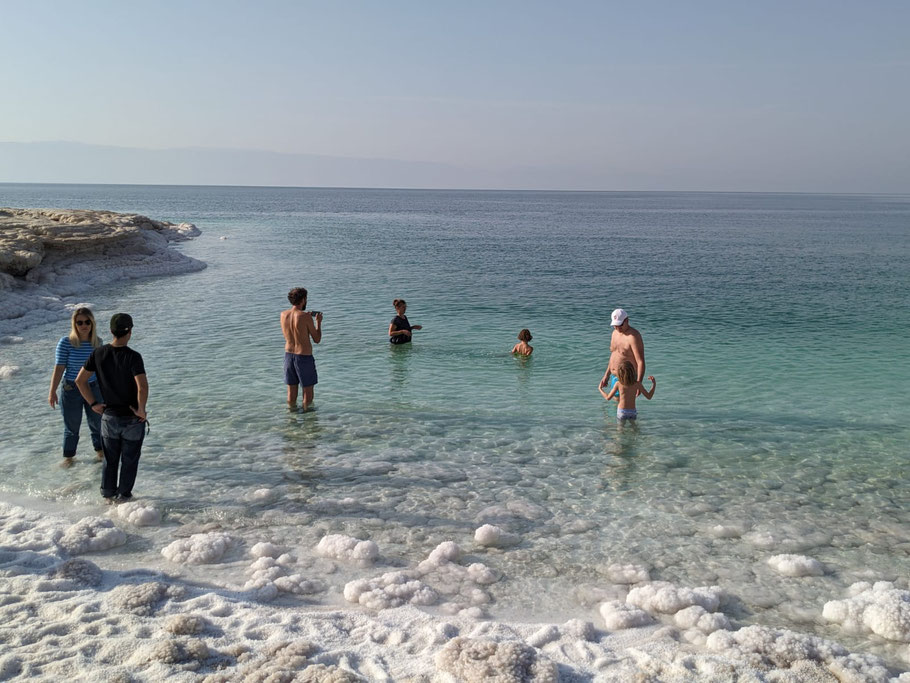 A journey to Jordan is not complete without floating in the Dead Sea. The Dead Sea in Jordan is the perfect place for some relaxation and a unique lifetime experience: Swimming at the lowest point on earth, in the second most salty lake in the world. Also, if you suffer from certain chronicle diseases or from skin problems, the Dead Sea can promise some relief. Most part of accesible beaches at the Dead Sea are nowadays owned by very famous resorts. So one way of getting to the Dead Sea, is booking a night in such expensive resorts. The second opinion is: the public beach. And the third option: Buying a day pass to get to the Dead Sea beach. How much it costs, what is included and which is the best one....you will find all the answers in this guide.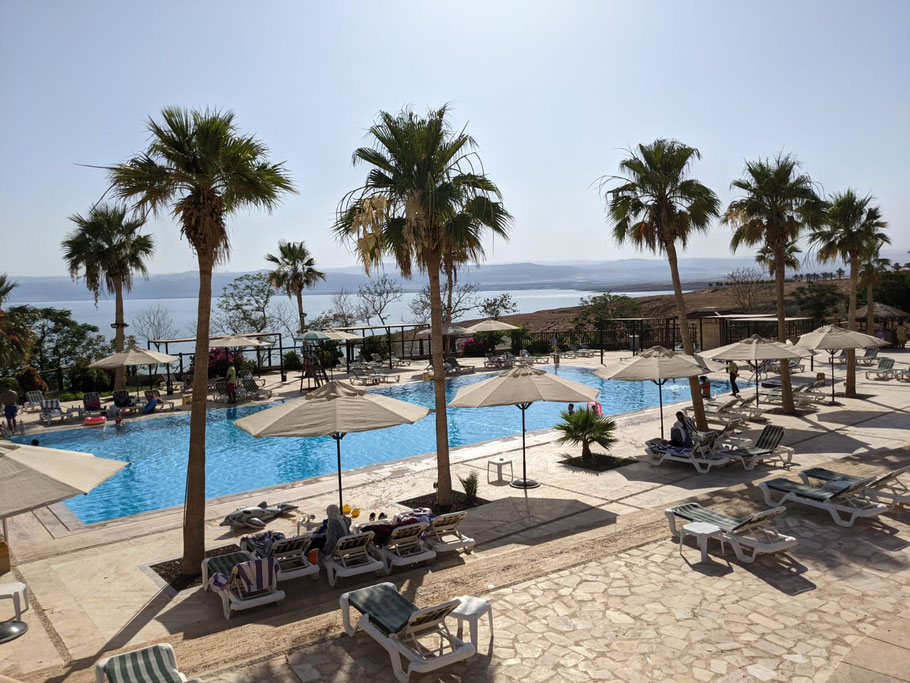 How to get to the Dead Sea in Jordan
With Uber: You can simply order an Uber from Amman to the Dead Sea for around 18 JD. Even the way back works like that....our friend ordered the Uber from Dead Sea to Amman and waited only 7 minutes for an available taxi. 
Ride Share: If you are super flexible with your time planning, you can ask and look for ride shares in traveller groups for Jordan in facebook, such as "solo travelers Amman".
Rental Car: There are so many companies in Amman which rent cars. Most foreign driving licenses are accepted. You can rent a car starting from 40 JD per day. 
Hitchhiking: The Dead Sea is only 50 minutes away from Amman. The Road is pretty straight forward and it is easy (and common!) in Jordan to get a lift while waiting on the side of the road. 
Driver: I always recommend our funny, reliable driver Haitham. He can not only give you good stories and insights about Jordanian society, but also drives you safely to the Dead Sea for around 30JD. Contact Haitham on Whatsapp: 00962799239914.
Bus: Getting to the dead sea by bus? No at the moment of writing it is not possible. 
Tour: You can contact Nader Bikes in Swefieh. They offer nice bike trips at the Dead Sea. Either as a private guide or as a group tour on Fridays for 18 JD including bike, transport and dinner. Nader Bike: 00962799142273.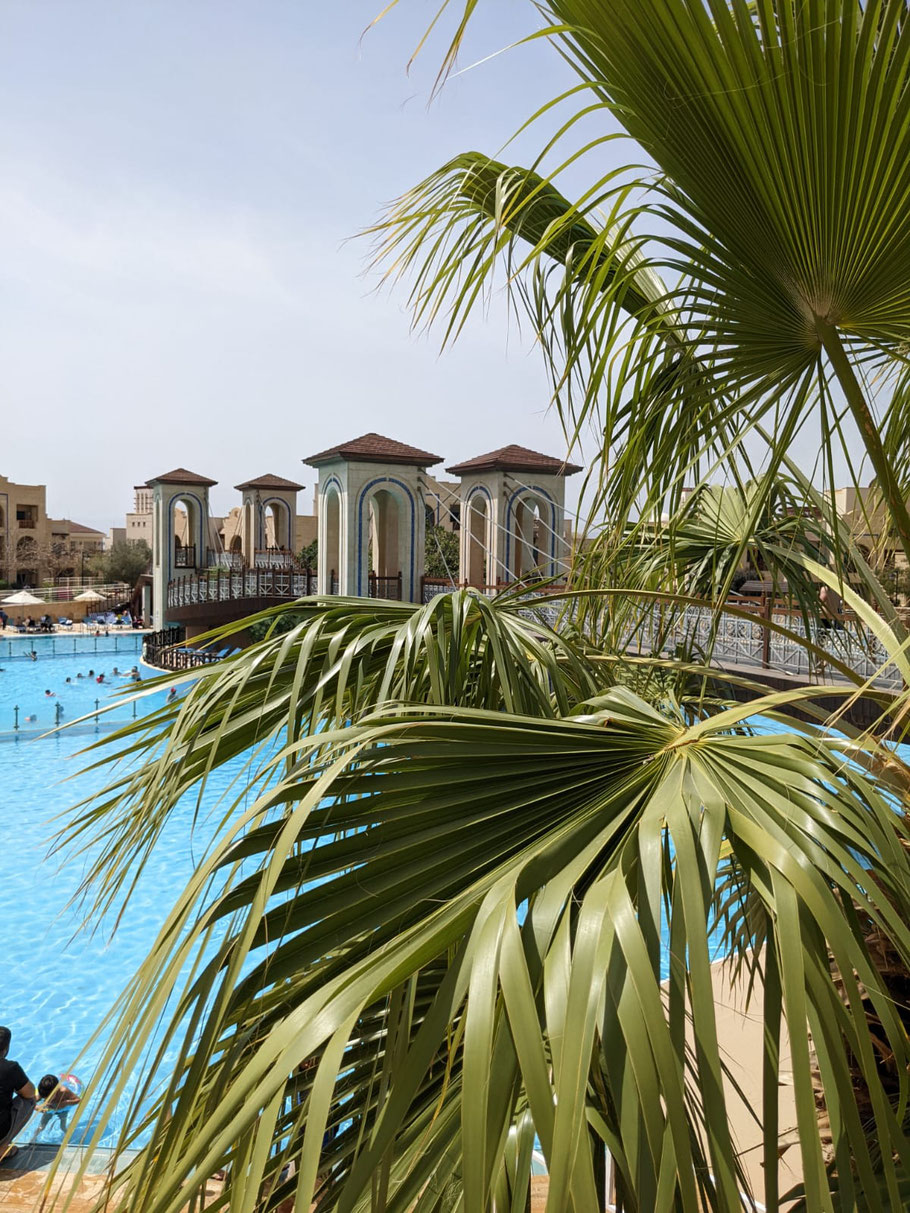 What to do at the Dead Sea?
Of course the main attraction is the Dead Sea itself and I´m sure most of you can easily spend a full day in and out of the water, relaxing, reading - doing nothing. But for those who also like to breathe in some local life and get active after the swim, here are some ideas.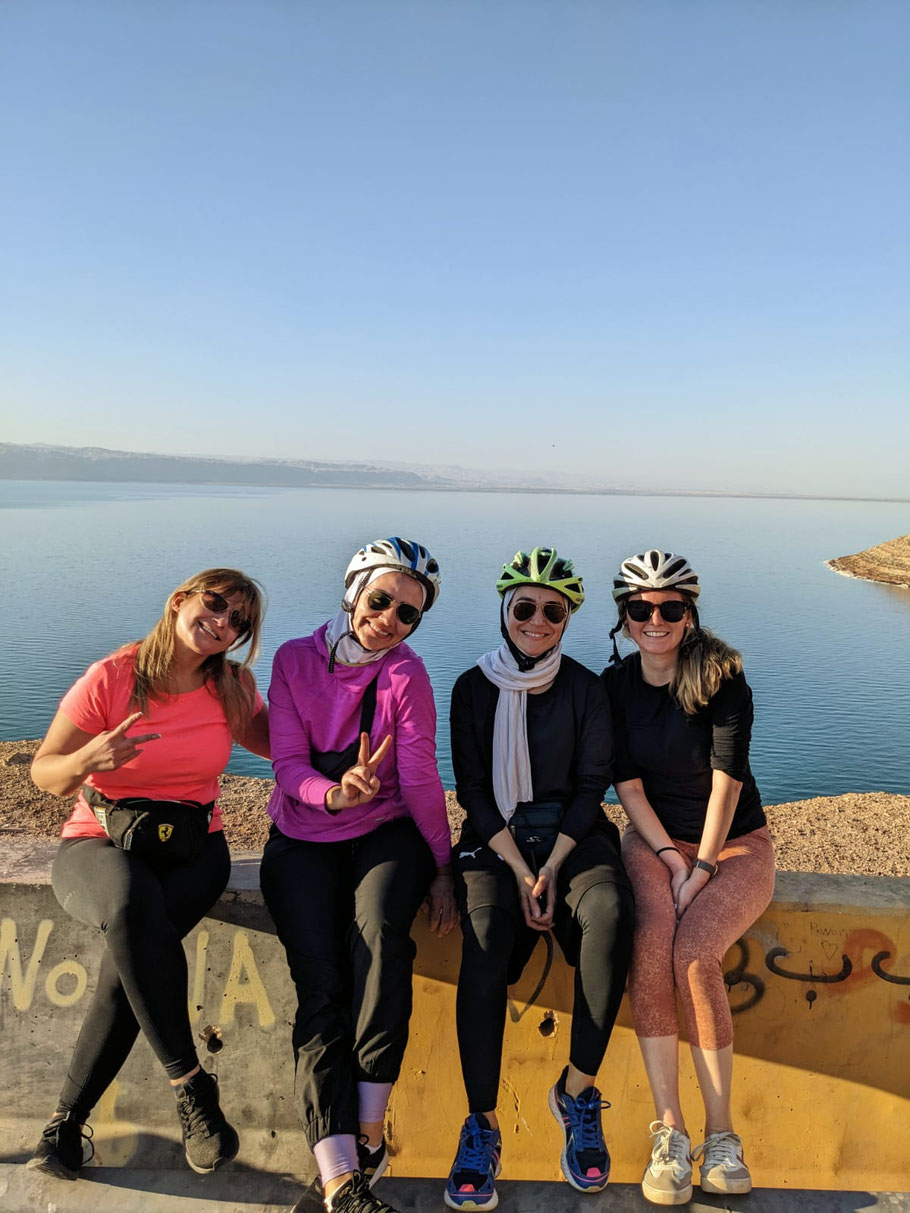 Walk along the Dead Sea Corniche: Especially during weekends, people from Amman come here and build up their picknick spots. Go for a stroll and you will definitely get in contact with locals. 
Stroll through Sameh Mall: This mall has nice restaurants, in case you did not bring your own food. There is also a pub :) 
Drive your car to a beach hut: Read further down under "beaches" and do like a Jordanian....
Ride a Camel: ALong the Corniche you find people with camels, offering a nice ride along the promenade 
Go running: the sidewalk is huge, there is even beside the highway a smaller road for cars that want to drive slowly and look :) So I always see lots of people jogging and running there. 
Smoke Shisha: On the promenade are some open air cafes that can serve you shisha on your sea-view-table. 
See the Sunset: The sun goes down exactly above the Dead Sea. It is an amazing sunset and worth finding a special location to watch it. It could either be at the corniche, or you drive along the shore and find your own romantic spot. 
Have a pick nick at Park Prince Hussein Bin Abdullah: There is also a playground ! Here is the location
Tour: You can contact Nader Bikes in Swefieh. They offer nice bike trips at the Dead Sea. Either as a private guide or as a group tour on Fridays for 18 JD including bike, transport and dinner. Nader Bike: 00962799142273.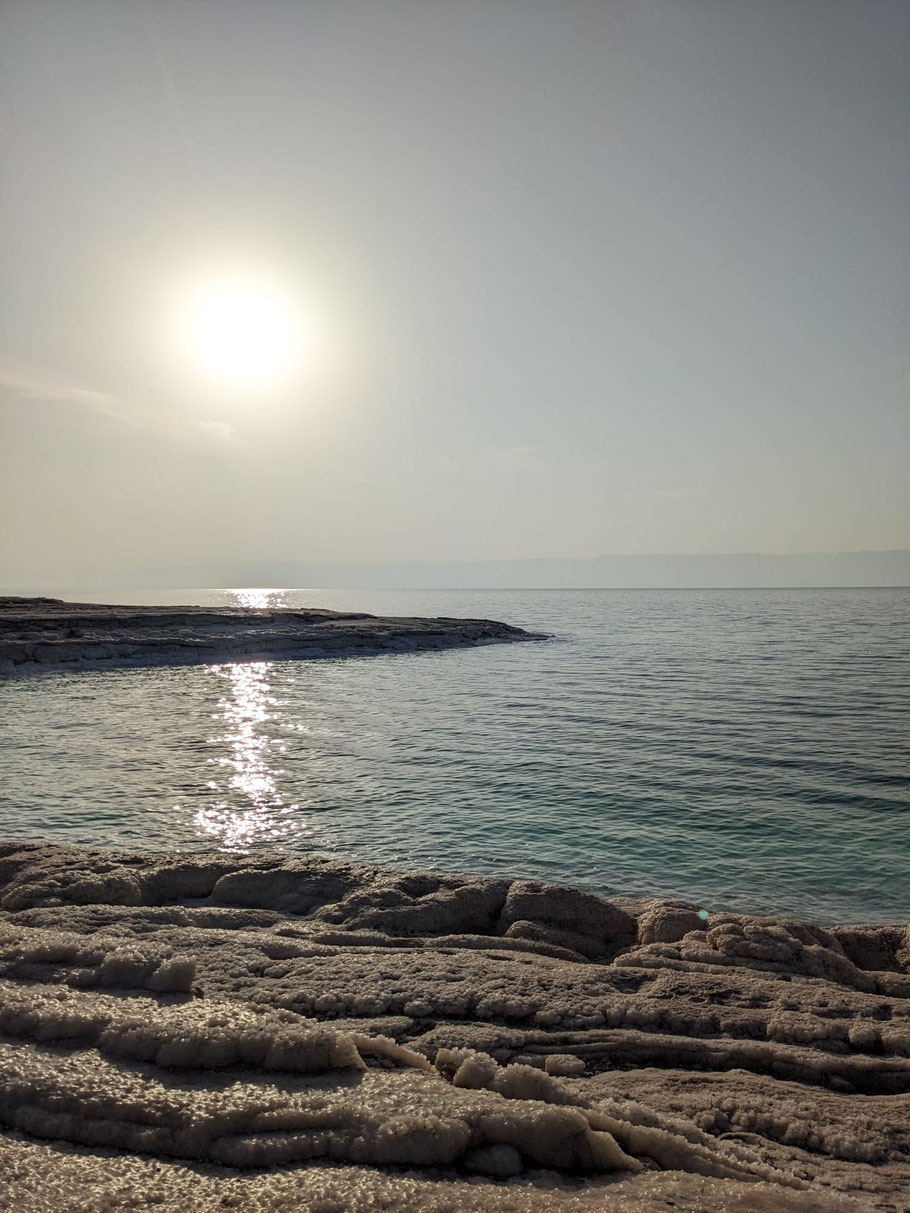 Sights along the way (combining it with Dead Sea)
Combine your Dead Sea experience with another nice sight-seeing-tour along the way can save you time and allows you to make the most of your day trip. You can drive to the Dead Sea as example via the old christian city of Madaba with its many churches. I highly recommend ordering a Golden Milk at Kawon Vegan restaurant and second hand bookshop. The ambient is unique!
Not far from there is Mt. Nebo. a historical view point with breathtaking view over Palestine. On its highest point is a church located nowaydays. 
If your element is water, stop at Ma´in Hotsprings before coming to the Dead Sea. The Hotsprings are a selection of natural pools and a big waterfall. Water Temperature is around 46° C. Here you find my blog post about it. 
The famous Wadi Mujib lies at the Dead Sea Road and you can easily do this adrenaline water-hike in the morning, before enjoying the sunset from the Dead Sea. 
Last but lot least, just shortly outside Amman, but already on the way to Dead Sea, lies the nature Cafe "O2". This place offers fantastic views on the Dead Sea. It is located inside a kind of a forest and built with recycled wood. Entrance is 1JD additionally to what you order. But it is really worth it.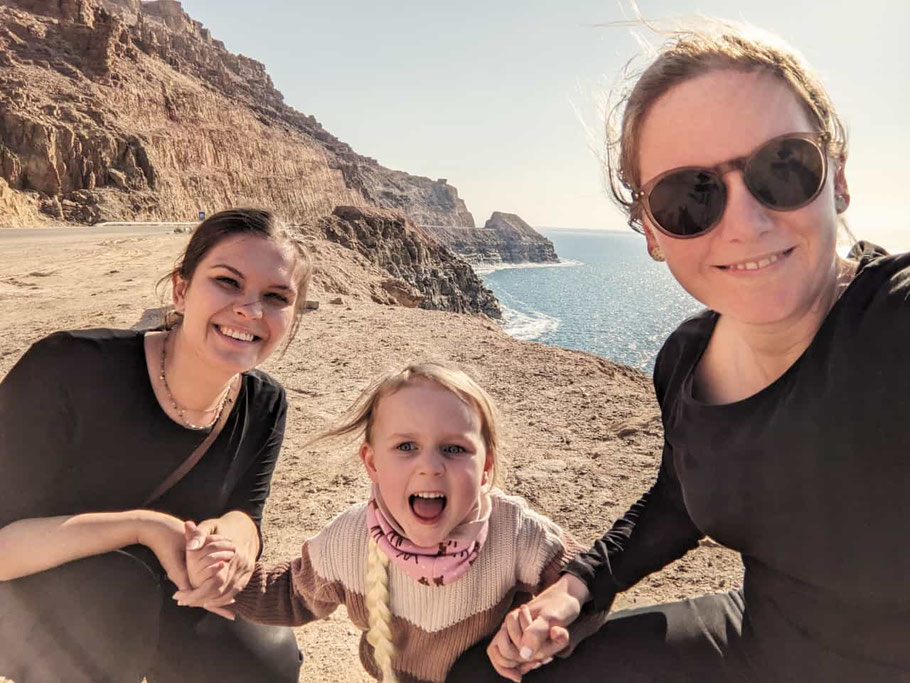 Overview and Comparison Day Passes Hotels Jordan
Dead Sea Spa Resort - Day Pass
20 JD entrance for beach and pools.
Kids under 6 free
above 6-12 years 10 JD
15 JD per lunch buffet
10 Jd for kids from 6 
O Beach
Entry adults 20 JD
Kids above 5: 10 JD
(without food)
Holiday Inn
Mövenpick
Crown Plaza
40 JD including lunch for adults 
Kids 6-12 years 20 JD.
Mariott Hotel
the day pass for adults costs total of JOD 70 including JOD 20 for food and beverage. As for kids: you are allowed 1 child under the age of 6 to enter for free, ages 6 to 12 you pay JOD 25. Also please note that payment must be card only and entrance is upon availability.
Porto Dead Sea Hotel
25 JD Day pass 10am to 7pm without luch.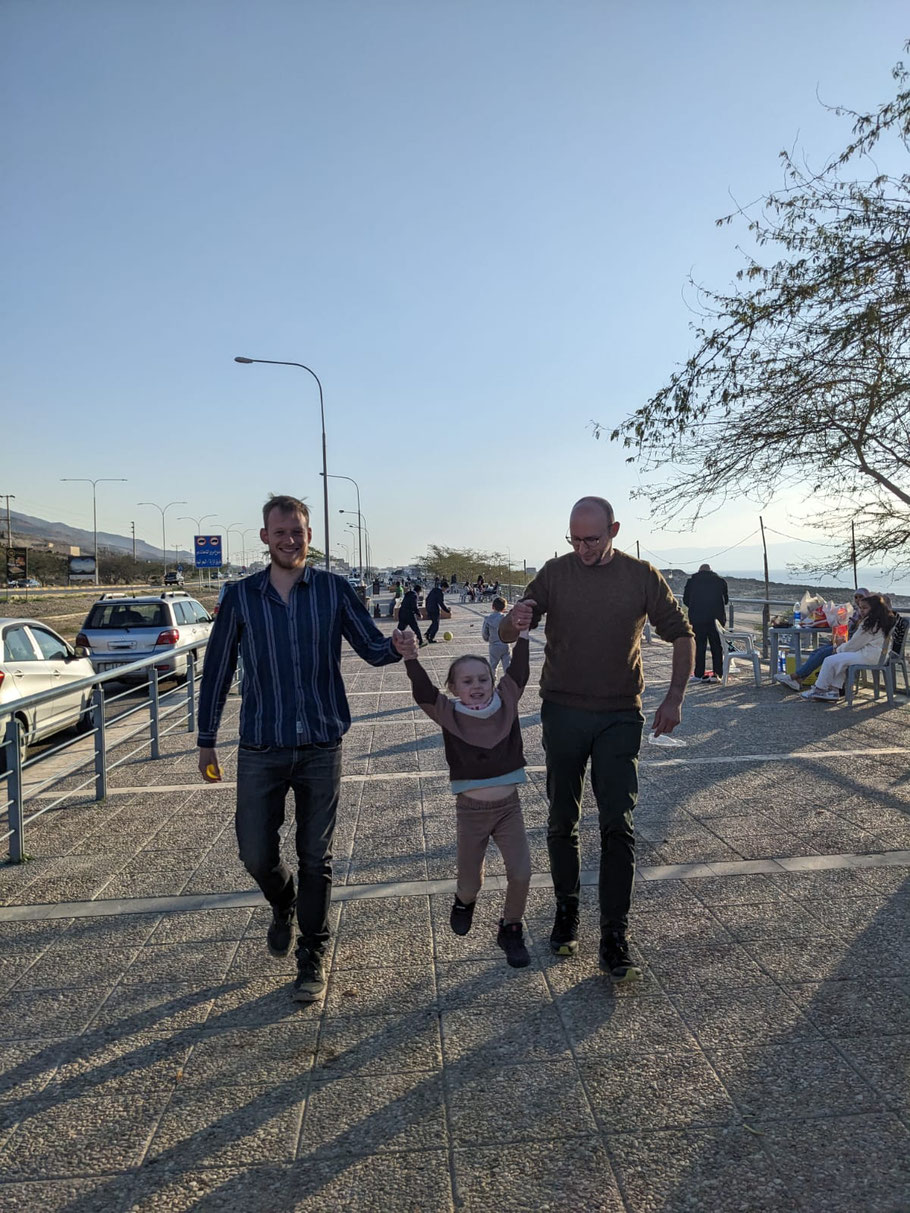 Best Beaches at the Dead Sea in Jordan (private and public)
Maybe you wanna just skip the resort-fees totally. In that case, you are rather looking for an only-beach-place. You do not need all the fancy pools or a lunch buffet. So you can chose one of the private or public beaches at dead sea. The main difference is, that the public beach has no facilities: no chairs, no showers, no gentle entrance to the sea. So make sure you bring enough water to shower yourself afterwards. The Dead Sea leaves kind of an oily filter on your skin. Plus, it is adviced not to leave the salt too long on your skin for health reasons. 
Amman Private Beach: This Beach costs 20JD entrance. Please think twice if you not wanna add a few JDs and buy a day pass. Because what I heard about Amman Beach....is very very bad customer service, no towels, damaged sun beds.....Anyway, here is the location.
Salty Public Beach: To see the most wonderful salt-crystals, check out this location or even a little bit further down here. It is amazing for swimming and I promise less crowds. 
Corniche Private Beach: On the part of the Dead Sea which comes first when coming from Amman, you will find some nice beach shaks where you can drive with your car just next to it. Mostly, people from here enjoy just the view. To swim, it requires a little climb further down the hill. Price is just a few JD. There are a lot, so chose as you drive by. This location is just one example. 
Calm Public Beach: Go to this location if you are ready to walk a bit but therefore enjoy a more or less sandy beach :). The location looks like it is in the water, but do not worry, it is not. Only because the water is getting less year by year.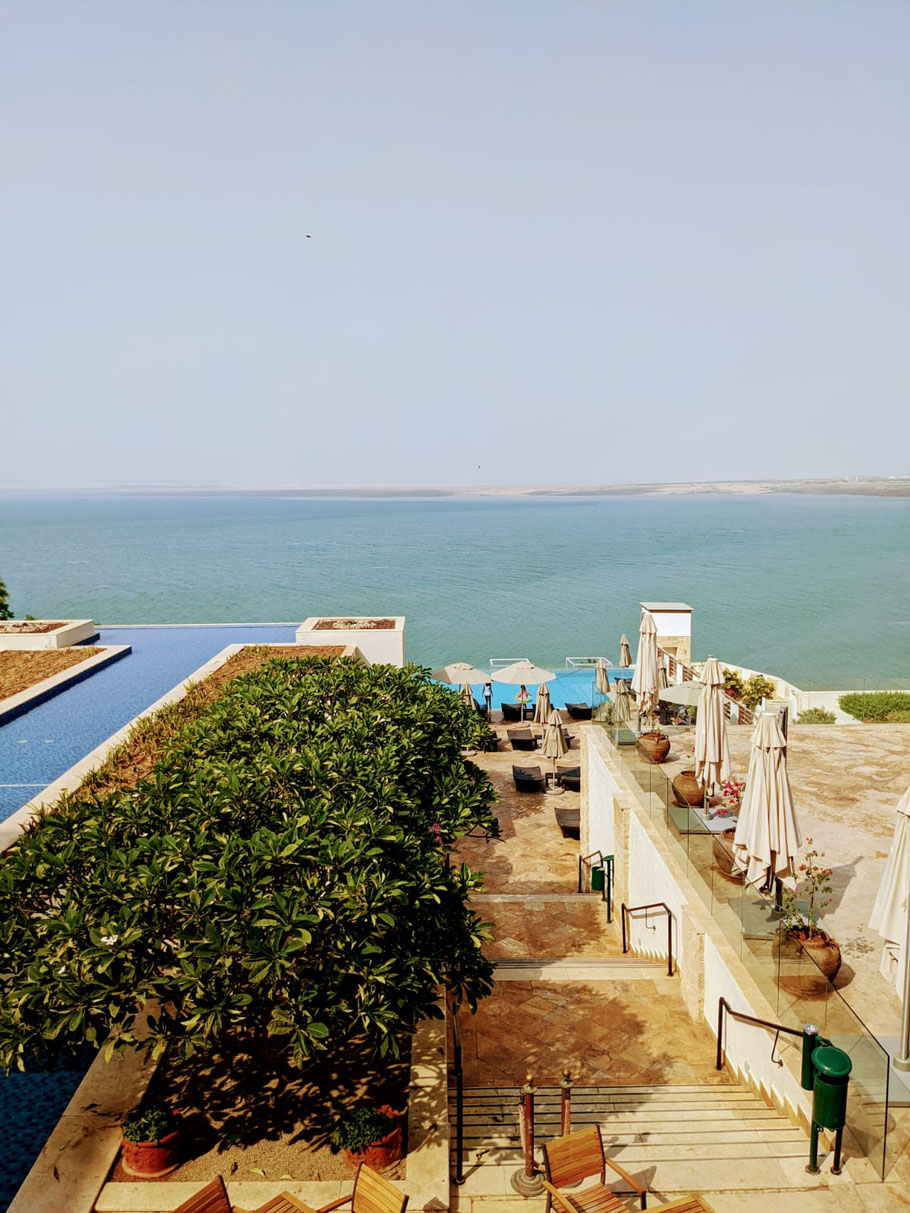 Other free guides to plan your Jordan trip